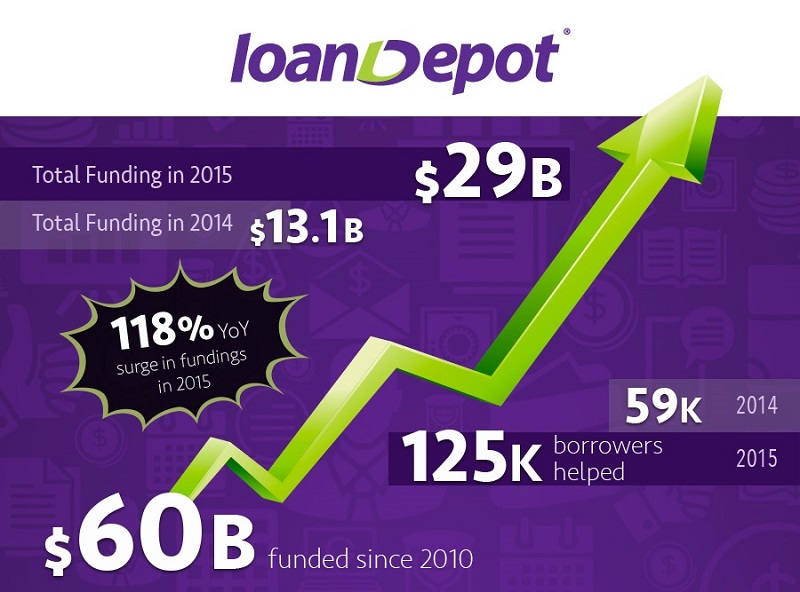 Led by entrepreneur and lending visionary Anthony Hsieh, along with his world class management team, loanDepot has accomplished what most lenders could not: In six short years, the company grew to 5,000+ employees nationwide, redefined lending to create a new hybrid category, built a market-leading brand sustainable in all credit cycles, and funded $60 billion in personal, purchase, refinance and home equity loans.
And while that's impressive, it's just the beginning for America's lender.
loanDepot represents the future of lending. Founded in 2010 as an alternative to the stale status quo in consumer lending, the company has been blazing its own trail from the beginning with technology, product development and trusted relationships to provide responsible borrowers with welcome credit alternative to fuel their lives. Carving out this pivotal spot within lending has been Chairman and CEO Anthony Hsieh's dedicated focus.
As we launch into what is expected to be the company's finest year to date, we pause to reflect on our many accomplishments in 2015.
"2015 was a transformational year in lending, and an incredible year for loanDepot at the forefront of modern lending," said Hsieh. "In six short years, loanDepot has grown into a powerful national brand that challenges the status quo of tradition banking. Our record-breaking performance in 2015 sets the stage for us to accelerate our growth and expand our reach so we can connect with and help even greater numbers of borrowers."
Some of our many exciting milestones in 2015:
Becoming the only marketplace lender to offer personal, purchase, refinance and home equity loans in the United States.
Increasing year-over-year fundings by 118% in 2015, which represents $29 billion in loans that assisted more than 125,000 borrowers.
Funding $353 million in personal loans to more than 23,000 borrowers since product launch in May 2015.
A $150 million securitization of our personal loan product was closed
Becoming the first marketplace lender to offer home equity loans—a product so popular with American borrowers, fundings doubled every month since its launch, with average loan amounts ranging between $40,000 and $60,000.
Strengthened our team of loan officers focused on helping veterans with their lending needs. The team funded more than 10,000 VA home loans in 2015 alone.
Recognized by INC. magazine as one of the fastest growing private companies in 2015 and named a Top Company to Work For by various news outlets.
#TeamloanDepot now employs more than 5,000 people from coast-to-coast
Grew our retail estate footprint to over 1 million square feet nationwide.
Expanded our national footprint to eight technology-enabled business centers and 140+ loan stores.
"We're answering consumer demand for a highly efficient, tech-enabled lending experience that's easy to navigate when searching for the financing," said Hsieh. "And we're supporting it with high-touch world-class customer care and experience that has earned us higher Net Promoter Scores than those received by many big bank brands."
What will 2016 bring? For responsible borrowers across America who select loanDepot as their lender of choice, it means greater access to an expanded suite of products delivered with better service. For our employees, 2016 is expected to bring greater job satisfaction, more opportunities for growth, and increased opportunities to help responsible borrowers achieve their own American dreams.
What will 2016 bring to you and your family? We'd love to hear from you.
Interested in becoming part of the change that is transforming the way responsible borrower's access credit?? Check out our career openings here.
Looking to fund your 2016 financial dreams? Explore your options here.