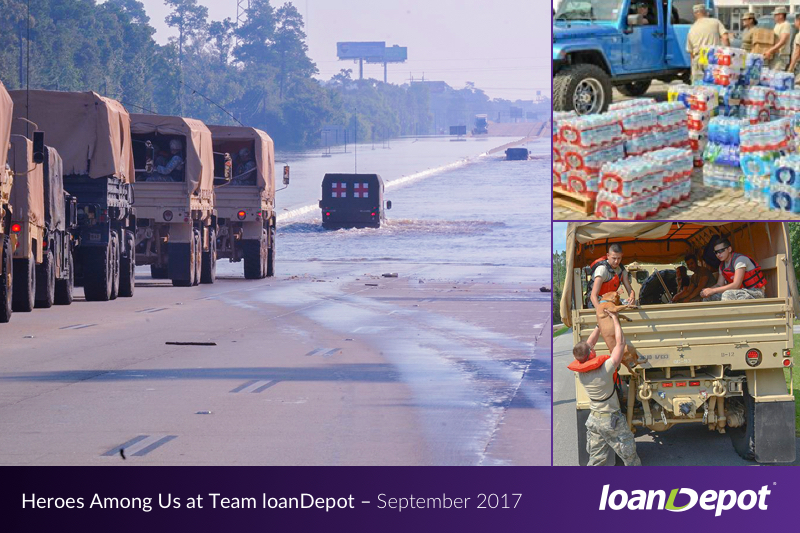 Editors' Note: In this second edition of our service-first series, hear the story of another member of Team loanDepot who recently served as an emergency responder to those in crisis in the wake of recent severe storm activity. --BL
In response to Hurricane Harvey disaster relief efforts, a loanDepot licensed lending officer and Army National Guard Specialist experienced his first deployment to provide search and rescue support to those impacted by flooding, power outages, high winds, and other damage in Katy and Beaumont, TX.
GP Sandhu, who has been a Licensed Lending Officer from our Dallas retail location for the last four years, was deployed on August 28. He and his 30-person unit were responsible for search and rescue missions over a nearly three-week tour serving communities in need within the Houston metro area.
Using two half-ton trucks, which are about 7.5 feet high to the cab, GP's unit rolled through the flooded streets going door-to-door evacuating people from their homes.
"One memorable mission involved my carrying an elderly woman down the stairs of her home and through the shoulder-high waters to the truck. She was crying and so thankful...it was an emotional moment," GP said. "The thing that stuck me was that my unit rescued about 435 people and even though their homes and belongings were destroyed, they were just so thankful to be alive. It was uplifting to see their strength and courage."
In addition to the hundreds of people rescued, GP's unit also rescued pets. "We were able to save dogs, cats, and we even rescued a horse that was stuck in the flood waters."
After search and rescue efforts wrapped up, the Austin-based Amy National Guard unit shifted gears to provide supplies to those in need. "We sand bagged areas that were expecting more water and we built 30 food and water pods (tents) where people could stop by to load up on snacks and water that were donated by various charitable organizations."
At the end of the deployment, the Houston Police Department hosted a barbecue in their honor. Additionally, local businesses such as Top Golf and local movie theaters opened their doors to offer complimentary down-time activities to help the unit relax. "They really took care of us," GP said. "We were very appreciative of the hospitality."
As for what he'd like people to know about his experience, GP said, "Things haven't normalized at all, there are still thousands of people displaced from their homes. I'd ask that people still consider making donations to the American Red Cross or other charities because people are still hurting from the effects of Harvey."
If you are interested in joining a company that values service to communities and people in need, consider visiting careers.loandepot.com and find your place among us!