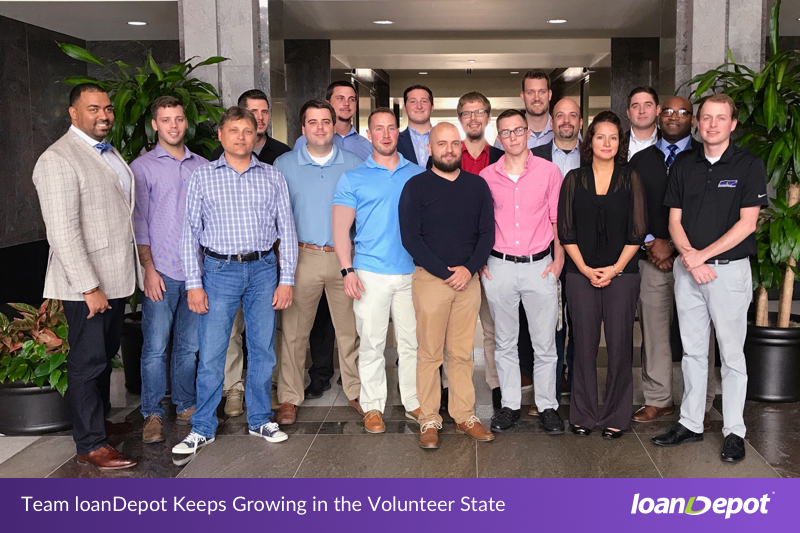 Our Tennessee team has recently more than doubled the number of licensed lending officers (LLOs) on staff working to serve customers from our offices in Franklin from 60 to a team of more than 130. This recent talent explosion within our direct lending group has led to the team's relocation to a larger space to avoid dividing the newly expanded team. Our direct teams in the Volunteer State service customers from coast to coast, helping them move their lending-fueled dreams forward every day.
At loanDepot, we charge toward the horizon with a robust employee learning and development plan to enrich and augment the skills of our teams. Among the notable offerings is our Accelerated Career in Effective Sales (ACES) program. An incubator for new talent, we invest in the future through ACES, a company-sponsored licensing plan that covers Nationwide Mortgage Licensing System & Registry (NMLS), ongoing education, and licensing in approximately 10 individual states, including California, Texas, Arizona and Tennessee.
Our Franklin office is led by VP of Sales and Tennessee site leader Jason Barto, a 20-year financial services and mortgage industry veteran. Jason leads the team of experienced direct lending professionals dedicated to growing sales and delivering unmatched customer service to Franklin residents seeking quality financing options from America's lender.
"Our expansion news is cause for celebration here in the Franklin community as it helps us grow the business community and careers of aspiring young professionals making a difference where they work and live. Beyond those two benefits, it also allows us to build a deep bench of skilled counselors committed to improving the home lending experience for customers nationwide," explains Barto. "Having grown within the loanDepot family since 2012, I can attest to the company's commitment to revolutionizing the industry by pairing the best technology with the brightest talent."
Is a company with a powerful vision of the future important to your career path? Find out where and how we can grow together on careers.loandepot.com today and jumpstart your next chapter.