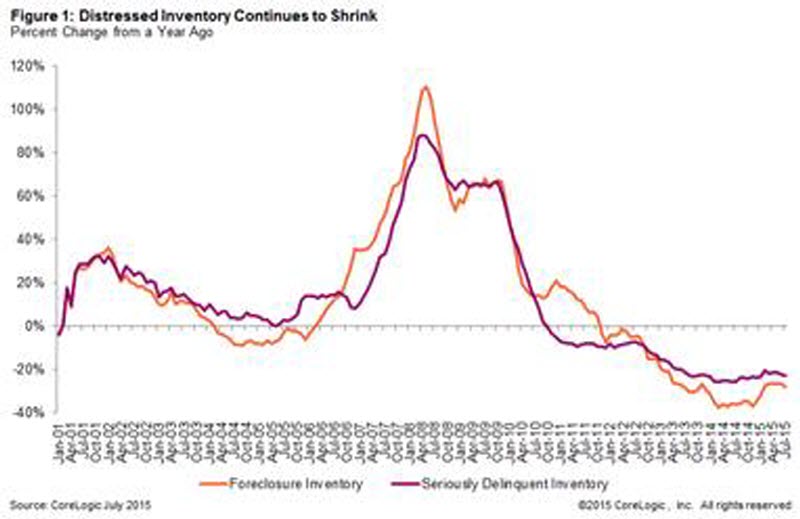 The nation's foreclosure rate and the number of homeowners seriously delinquent on their home loans fell to the lowest rates since 2007, a new report from CoreLogic said.
CoreLogic's National Foreclosure Report July 2015, which was released Sept. 8, 2015, said the rate of seriously delinquent home loans – those classified as 90 days or more past due, including those pending foreclosure – hasn't been this low since December 2007.
The number of homes lost to foreclosure nationwide decreased 24.4 percent year over year from 50,000 in July 2014 to 38,000 in July 2015, representing a decrease of 67.9% from the peak of 117,225 completed foreclosures in September 2010.
Nearly 6 million homeowners have lost their homes to foreclosure since the financial crisis began in 2008.
"Job market gains and home-price appreciation helped to push serious delinquency and foreclosure rates lower. The CoreLogic national HPI showed home prices in July rose 6.9% from a year earlier, building equity for homeowners," said Frank Nothaft, chief economist for CoreLogic in a company statement. "Further, 2.4 million jobs were created, pushing the unemployment rate down from 6.2% in July 2014 to 5.3% this July and supporting family income growth for most owners."
Though the numbers of foreclosures are declining substantially, it is still taking many states longer to process foreclosures still in the pipeline. In fact, the Federal National Mortgage Association last week increased the amount of time considered acceptable for the foreclosure process in a majority of states. The Washington, D.C.-based entity said on Sept. 3, 2015, that the maximum number of allowable days for routine foreclosure proceedings has been extended in 33 states. The extended time frames apply to foreclosure sales of Fannie Mae-backed mortgages that occur on or after Aug. 1, 2015. If the number of actual days to complete the foreclosure proceedings exceeds the maximum number of allowable days, Fannie Mae can require the mortgage servicer to pay a compensatory fee.
Other highlights from the CoreLogic report include:
The five states with the highest number of completed foreclosures for the 12 months ending in July 2015 were Florida (98,000), Michigan (47,000), Texas (33,000), California (27,000) and Georgia (27,000). These five states accounted for almost half of all completed foreclosures nationally.
Four states and the District of Columbia had the lowest number of completed foreclosures for the 12 months ending in July 2015: South Dakota (33), the District of Columbia (124), North Dakota (316), Wyoming (483) and West Virginia (553).
Four states and the District of Columbia had the highest foreclosure inventory as a percentage of all mortgaged homes: New Jersey (4.8 percent), New York (3.7 percent), Florida (2.7 percent), Hawaii (2.5 percent) and the District of Columbia (2.4 percent).
The five states with the lowest foreclosure inventory rate: Alaska (0.3 percent), Minnesota (0.4 percent), North Dakota (0.4 percent), Utah (0.4 percent) and Nebraska (0.4 percent).
If your loan is currently with loanDepot and you are having trouble making your mortgage payment due to change or loss of your job, serious illness, divorce or other difficult situations, loanDepot may be able to work with you to avoid foreclosure. For more information, visit our Homeowner Support Resource page for information.