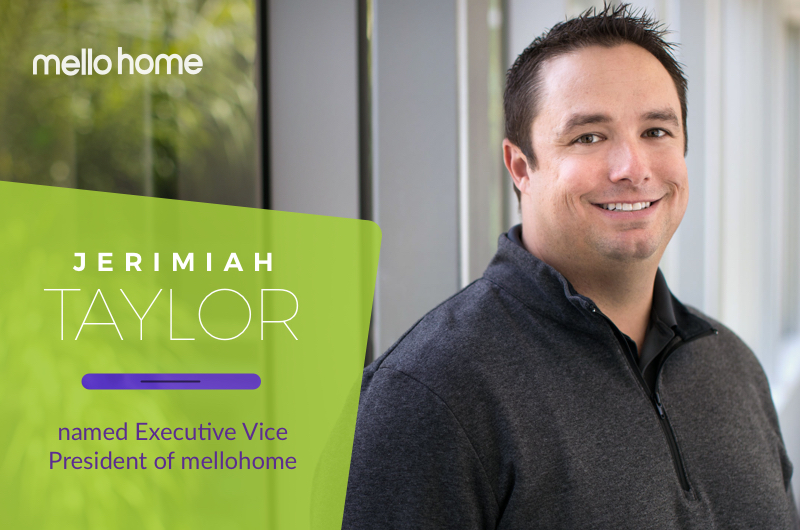 Today, mellohome CEO Chris Heller announced that Jerimiah Taylor has been appointed to the company's leadership team as Executive Vice President. Taylor has more than 17 years of experience in both the mortgage and real estate industries as well as expansive experience in technology verticals. An agile and adaptive leader, Taylor is known for his ability to quickly build, scale and implement systems and processes that result in exceptional customer experiences.
Most recently, Taylor served as Team Leader for Keller Williams Realty. During his tenure, Taylor grew the brokerage from 160 agents selling $300M/annually to 500 agents selling +1.49BB/annually, making it a top Keller Williams brokerage on the west coast within five years. In addition to a lengthy career in both the mortgage and real estate verticals, Taylor has also made a name for himself in the automotive industry, using his technological prowess with computerized calibrations to speed cars across finish lines, whether breaking landspeed records or winning at world-famous Laguna Seca.
"What's exciting for me about this opportunity is that it's an absolute intersection of everything that I've done to date and love," explains Taylor. "It's essentially taking everything from real estate, mortgage and future ancillary verticals and then applying technology and people power to ensure that customers have access to best-in-class products, processes and experiences."
"So often, especially in the real estate industry, technologists come in and want to replace people and that's not the way it works," adds Taylor. "Technology should empower people, not replace them."
"Jerimiah is an exceptional team leader and problem-solver," says CEO Chris Heller. "He is quick to identify opportunities, craft solutions and deploy them systematically across an enterprise. His results speak for themselves. I'm delighted to have him partner with us to transform mellohome into America's leading homeownership brand."
"The thing that I'm most excited about is the opportunities we – and our customers – will have," Taylor adds. "We're not looking to take incremental steps forward, rather, we see big opportunities, big strides that we can make with regard to the customer's experience. These strides will allow mellohome to completely transform the current homeownership model."
Taylor will report to Heller and oversee the development of business systems, processes and strategies that will further enhance the mellohome experience. He also will be responsible for scaling customer acquisition as well as expanding the mellohome preferred agent network. An innovative thinker, Taylor also will partner with executive leadership and teams within sister company loanDepot as the two brands continue to refine the mortgage and real estate purchase experiences.