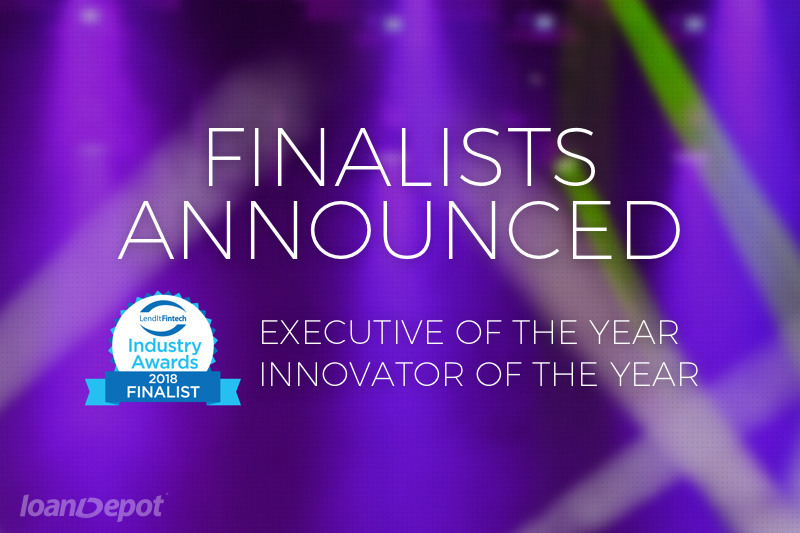 loanDepot and mello Home are partner companies that combine digital simplicity and smart local advice to give you a one-stop-shop for home buying, financing, and improvement.
We're here to make your life easier throughout your homeownership lifecycle, and it's always a thrill to get some validation that our technology and service is serving you properly.
This month, finalists were announced for the upcoming annual LendIt Fintech Industry Awards, and loanDepot has been nominated for the two highest honors in financial technology. LendIt is the gold standard for global financial technology innovation, and these awards recognize companies and leaders making bold, disruptive moves to serve consumers in lending and banking. Our founder and CEO Anthony Hsieh is up for Executive of the Year and loanDepot is up for Innovator of the Year.
These award nominations resulted from the launch of our proprietary mello™ technology that lets you get mortgage and personal loans anytime from any device, and the launch of mello Home which seamlessly connects financing to home buying and home improvement so you can manage the entire business of your home from one place.
The home buying, financing, and improvement industries are each complex to navigate on their own, so Anthony's goal when founding loanDepot eight years ago was first to simplify financing first then expand from there. In just eight years, we became the nation's fifth largest retail consumer lender. And more recently with the launch of our sister company mello Home, we're seamlessly linking financing with the home buying and home improvement processes so you can navigate it all from one place.
This is what financial technology forums like LendIt call disruption. To us, disruption means being ahead of where technology is driving your expectations as a customer. We know you expect a super easy process and smart, responsive service—and we will never stop building technology and teams to deliver this for you.
Stay tuned as we find out the LendIt Fintech Industry Award winners April 10. And in the meantime, we'd like to congratulate our fellow nominees. You can read more about the awards here.