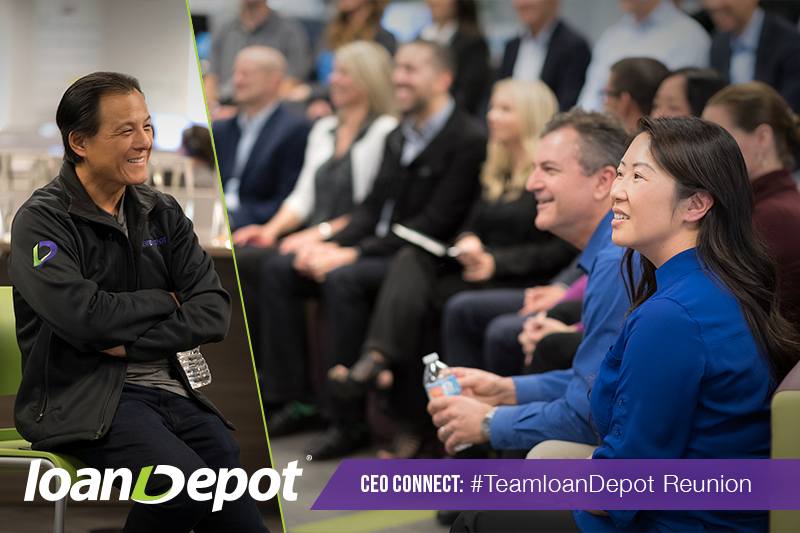 How much can you accomplish in 2,555 days? If you're #TeamloanDepot, the answer would be funding $100 billion in home, personal and home equity loans. This and more in just seven years.
"The work that we have done over the last seven years has shaped the entire industry," said Chairman and CEO Anthony Hsieh. "When you think about how much impact this company has had with consumers, it's all because of the major investments in time and technology that we have and continue to make."
Hsieh, together with 32 of the company's original #TeamloanDepot associates, gathered at a recent CEO Connect to share memories and perspectives on the challenges and opportunities that have framed the company's rich yet short history.
Among the many highlights, one continuous theme recurred throughout: Heart. Had it not been for the tenacity and determination of Hsieh and #TeamloanDepot to get it done, it's possible the story might have taken a very different path.
"We were a true-blue unknown startup in January of 2010," recalls Hsieh. "Eighty-four months later, in 2016 we funded nearly $38 billion in loans that year, and we're poised for even greater and more substantial accomplishments as we head off toward our next seven years."
Today, loanDepot is the only modern brand among today's top five retail mortgage lenders in the United States. The company also is the second largest retail lender in the nation, enjoying 70 percent year-over-year annual growth in originations since 2010.
Added Hsieh, "We have learned a lot from our experiences together. You have to solve the problems in front of you as they happen with a 'today, right now' type of attitude. You can't wait for someone else to give you a perfect solution tied up with a little red bow. By being scrappy and tenacious, we are now pumping $1 billion into our nation's economy every year. We're very proud of that contribution."
The #TeamloanDepot associates who attended this very special CEO Connect attribute the company's collective successes to perseverance, dedication and a can-do attitude.
"You should all be extraordinarily proud of what we've accomplished and in being a part of this company's story," said Hsieh. "Not too many people get to tell a story like ours. It's really meaningful and significant, and hopefully all of you are as proud of it as I am."
Attending the CEO Connect and receiving recognition for their 7-year employee milestones were: Clare Anderson, Hollie Artanis, Ernesto Catibayan, Leonard Compton, Cory Dambert, Sean DeJulia, Karen Emi, Annette Frese, Saeed Ghasemzadeh, Rod Halperin, Diana Harvey, Jason Jui, Joyce Kolstad, Betty Kranig, Jennifer Leanna, John Lee, Peter Macdonald, Alex Madonna, Joe Nguyen, Clay Norris, Selma Osman, Cece Palmieri, Ray Quevedo, Mike Reyes, Sally Roldan, Patricia Sieker, Jess Smith, Norm Steeg, Jim Svinth, Tomo Yebisu, and Debora Wilson.
Ready to join a winning team and make your mark on lending history? Email your resume to hello@loandepot.com with your area of interest.