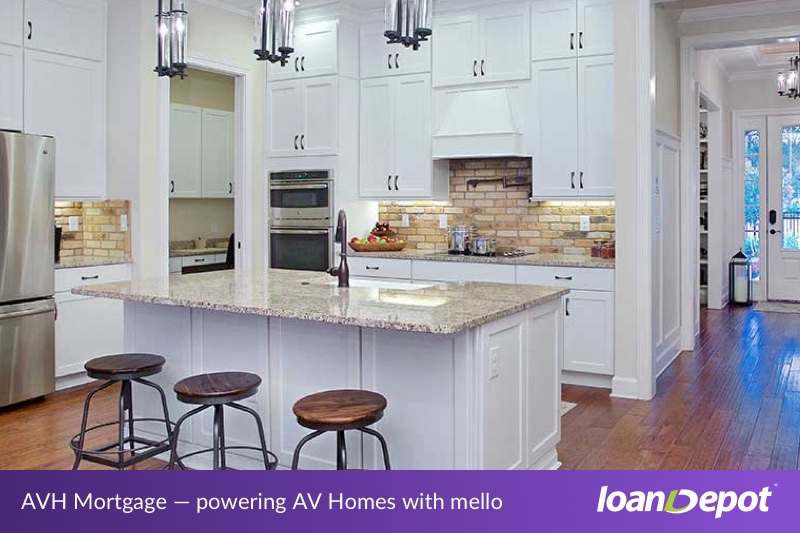 Team loanDepot is pleased to announce a new partnership to utilize its proprietary and industry-transforming technology, mello. Announced today, AVH Mortgage is a new joint-venture partnership with one of America's premier homebuilders, AV Homes. Together, we'll put the full capability of our innovative mello technology to work empowering new homebuyers with a frictionless purchase process in future AV Homes communities – ensuring them an improved, digital-first mortgage experience.
"Thanks to this new joint venture partnership, we're excited that the next generation of AV Homes customers will be among the first to use our game changing mello technology," shared Dan Peña, senior vice president of national joint ventures for loanDepot. "We're confident homebuyers will be delighted with the connected nature of mello, saving time and effort."
As one of the top 25 homebuilders in the country, AV Homes joins an elite roster of established, high-performing joint venture partnerships serviced by loanDepot technology, service, and a commitment to perpetual innovation.
This special arrangement hits to the heart of loanDepot's core values of bringing measurable improvements to the customer process experience: "Our mello technology will enable prospective AV Homes customers to complete their loan transaction within the mello ecosystem – bringing them invaluable time savings. Our goal is to be one of the first highlights in the homebuyer's purchase experience," added Peña.
Since 1970, AV Homes has crafted fine homes nationwide, ushering home 2,465 customers in 2016. Thanks to its partnership with loanDepot, AVH Mortgage will now be able to offer AV Homes customers a powerful suite of lending options serviced with forward-thinking digital technology.
loanDepot currently has joint-venture partnerships with five other leading homebuilders around the country, including: MTH Mortgage; MSC Mortgage; Tripoint Mortgage; Polygon Mortgage; and LGI, where loanDepot has preferred status as lender of choice.