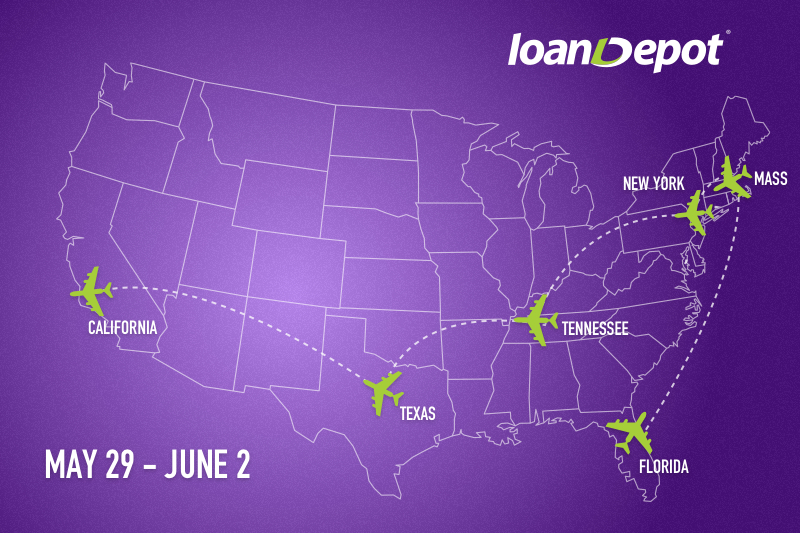 Our CEO and Chairman Anthony Hsieh is determined to personally update #TeamloanDepot on the company's strategy and plans for the future. As part of this commitment, Anthony logs hundreds of thousands of miles annually, sharing his vision for modern lending, our company and how we can better serve responsible borrowers. He regularly meets with our licensed lending officers, talented technologists and other thousands of dedicated team members nationwide. So it's no surprise that he is already fueling up for his next trip — this time headed to loanDepot campuses in Florida, Massachusetts, New York, Tennessee, Texas and Southern California.
During his travels, Anthony will provide thousands of loanDepot associates with another intimate glimpse into his vision for our near term future, and how our company is disrupting the lending industry. He'll also give an update on the next iteration of mello™, our end-to-end digital lending platform that is revolutionizing how Americans think about lending.
Anthony's ambitious 5-day trip is just a fraction of the time he dedicates to the company he launched just seven years ago with a handful of employees. Today, loanDepot is more than 6,000+ associates strong, and growing daily. In a sector where companies are seeing staffing reductions and market share retreats, loanDepot is aggressively expanding across the nation. In fact, loanDepot is holding multiple social hiring events, including one in Southern California on May 25th for technology professionals. Another social hiring meet up is already in the works for late June for loan officers and loan processors.
Interested in joining a team where the CEO is committed to your success and is interested in your opinions? Email your resume and area of interest to hello@loandepot.com.