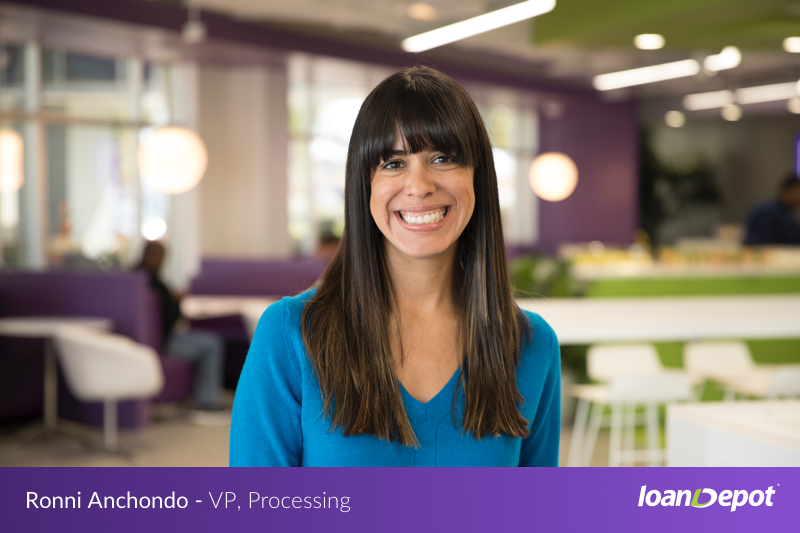 For Ronni Anchondo, vice president of processing, bringing out the best in #TeamloanDepot is her No. 1 goal. An enthusiastic and dedicated leader, she is committed to ensuring that every loanDepot customer is a top priority.
"I love our team," explains Ronni. "Whether it's a processor, processing manager, or processing director, our team does a great job of keeping our customers at the forefront when we're making decisions on loans. And that's something that's really just ingrained into #TeamloanDepot, from our CEO Anthony Hsieh on down."
Ronni joined loanDepot in 2011 as a processor. Thanks to her impeccable work ethic, she was quickly promoted to manager and, a year later, to director. Just a year later, she earned the title of vice president, and she currently leads a team of 169 processing associates across Texas and Arizona.
Today, her exceptional work ethic and passion for customer advocacy is her trademark, and her commitment to our team is second to none.
"Maintaining that connection to our team is very important for me," says Ronni. "I never want to lose that."
Being available to everyone helps her build a rapport that makes her accessible and approachable. It's something she acknowledges Chad Smith, president, direct lending, has reinforced in her as paramount in her position.
"When I'm talking with our team, one of the things I emphasize is this: no matter what the issue, it's about doing what's right for the customers," she says. "That's one of the main messages my team and I strive to drive home. Our brand has an incredible reputation, and we need to live up to that every day."
Are you passionate about your future and making a difference in the lives of people nationwide? Email us at hello@loandepot.com with your resume and area of interest today.