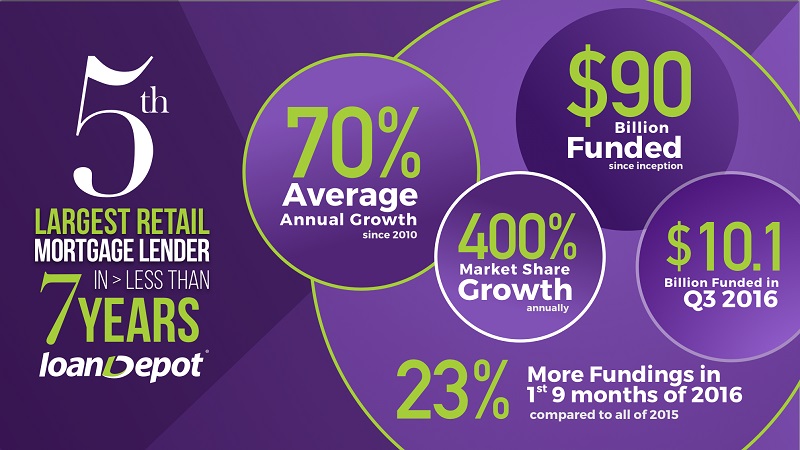 As nonbank lenders continue taking market share from traditional banks, loanDepot has remained at the forefront as the newest forward-thinking brand of the modern lending movement.
We've consistently achieved 400 percent annual market share growth and 70 percent average annual growth since our launch in 2010. As a result of these and other successes, we are now a well-positioned national diversified retail lending platform with a balanced strategy to further penetrate refinance, purchase and consumer loans.
Earlier today, we shared with the world our rise to the top tier of the retail home loan industry to become our country's fifth largest retail mortgage brand in less than seven years. We think this is an amazing accomplishment, especially considering the barriers to entry in our post-financial crisis market. Read more about today's announcement here.
We believe 2017 will be a strong year for the purchase market, and we're excited about that. Our business model and strategy were carefully engineered for fast-changing market conditions, ensuring our long-term sustainability in all credit cycles. Our employees, our borrowers and our partners are depending on us and we're 'All In.'
Over the course of the next few months you'll be hearing a lot from us about the market, new developments at our company, and how we are reimagining the borrower experience. This is because we're committed to being the lender of choice and committed to becoming an even greater force for positive disruption in financial services.
Are you interested in learning more about the impact you can have in helping others empower themselves financially? We'd love to hear from you. Click here for a list of our current opportunities, or email your resume, along with your area of interest, to: hello@loandepot.com.