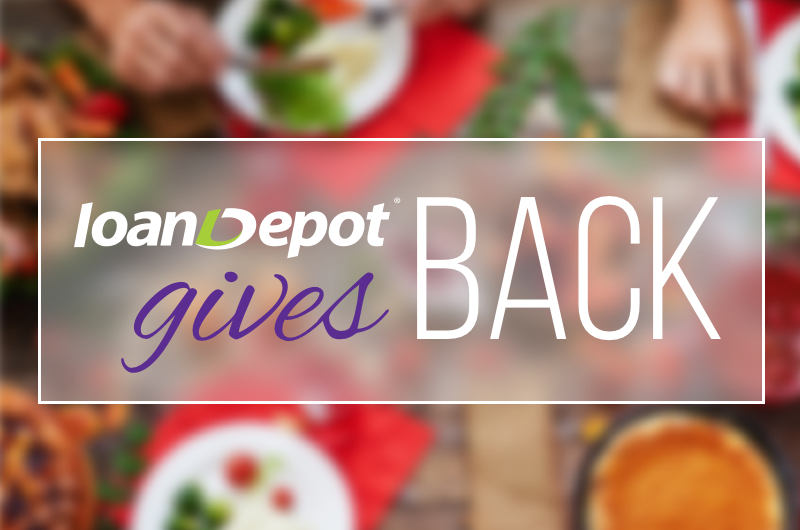 For #TeamloanDepot, community drives to the heart of why we do what we do. While our employees work tirelessly to help our customers achieve their dreams, they're also inspired by the example set by our CEO and Chairman Anthony Hsieh in giving back to the communities where we live and work.
Throughout the country, the last few months have been busy ones for Team loanDepot. Our employees have been working to raise funds and donating their time and more to local and national charitable organizations.
July saw multiple teams in Scottsdale, Arizona come together to donate their time and togetherness to package lunches for at-risk youth across the border for Feed My Starving children – working together to complete more than 34,000 meals. In August, we raised funds for Pets for Vets, connecting veterans with shelter dogs for emotional support, on National Dog Day when members of Team loanDepot and our Facebook fans shared photos of their four-legged family members.
loanDepot headquarters in Foothill Ranch hosted our first-annual Kids on Campus event, where the children of employees were invited to participate in a tour of our facilities and to learn about their parents' work. In conjunction with Kids on Campus, loanDepot collected donations of school supplies for THINK Together for the 2017-2018 school year.
August also delivered the combined efforts of our Lake Forest and Foothill Ranch campuses as more than 80 donors participated in on-site blood drives with the American Red Cross. Altogether, these 80-plus donations will each save up to three lives in the greater Southern California area.
Our teams on the East Coast were busy working with local organizations in their communities. Several members of our Walpole, Massachusetts team continued their support of the Junior Achievement of New England by volunteering at their annual Golf Classic in July, and the Walpole office sponsored the 8th Annual Liam's LEEP 5K Halloween Trick or Treat walk/run in Norwood, MA in October. Team loanDepot in Rockland, New York supported their local CSA by sponsoring the Rockland Farm Alliance Twilight Dinner in September as summer turned to fall.
Throughout the South, and across our company, Team loanDepot continued to help in efforts to aid hurricane relief in Texas and Florida sending diapers to the Austin Diaper Bank and aid supplies for distribution by first responders.
Other organizations that loanDepot partnered with include: the Northeast Illinois Council of the Boy Scouts of America, Children's Hospital Orange County, the Michael J. Fox Foundation for Parkinson's Research, the 100 Club of Arizona, the Los Angeles Philharmonic, the Patrick Burke Foundation, Metro Meals on Wheels Treasure Valley, Knots of Love, Serene Light, Girls Incorporated of Orange County and Keller Williams Realty Group CARES Charity.
If you're passionate about working with an organization that champions giving back, learn more about opportunities to join #TeamloanDepot by visiting careers.loandepot.com today.