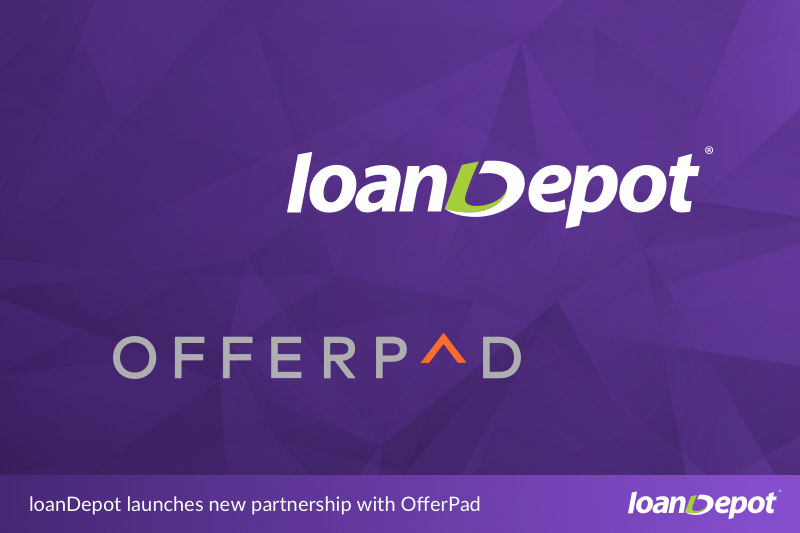 Today, we're proud to announce a unique venture that's also a bit of a milestone for team loanDepot: we've joined forces in a new partnership with industry-leading real estate platform, OfferPad – a direct homebuying and selling online platform serving buyers sometimes known as internet buyers or iBuyers. We're pleased to work with OfferPad to lend our expertise to a mortgage partnership soon to become available for OfferPad clients as part of their experience. According to a recent survey we conducted, more than 95% of homeowners report stress from their transition from one home to another. Our partnership is the first of its kind between an instant offer opportunity and a mortgage platform to solve for their frustrations.
Started in 2015 by two real estate industry veterans, OfferPad has since garnered awards for its innovative approach to the home purchase transaction. Their motivation to shape and improve the future of a fundamental experience is close to that of ours at loanDepot as we continue to work to change the way America thinks about lending. We feel that the unique opportunity to explore what's possible today between our core strengths could make a meaningful improvement in the way that homes are bought and sold in the future.
Today's homebuyers are less understanding of the need to deal with multiple partners in the start-to-finish process of moving homes, and view it as a process that needs to be streamlined and solved for ease of use the same way that changing autos has been eased. According to our research, key stressors vary throughout the home transition process, and nearly 1 in 5 reported a previous new home purchase had previously fallen through because they couldn't sell their preceding home fast enough – an experience they described as devastating. Helping these homeowners is an opportunity we're working to explore and support through our unique alliance with the OfferPad team – evolving the home purchase experience side by side.