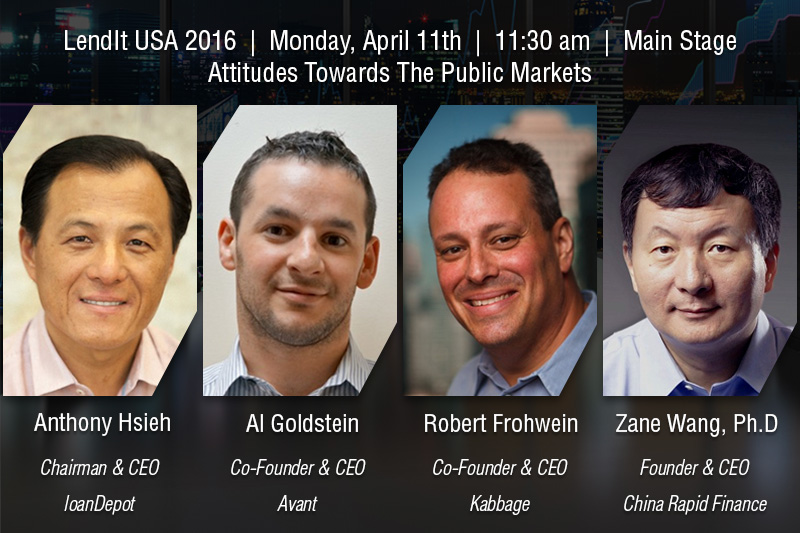 What's next for #FinTech unicorns and the 2016 IPO market? loanDepot's Chairman and CEO Anthony Hsieh will share his thoughts on upcoming market trends during next week's LendIt USA conference in San Francisco. He'll be joined by Avant's Al Goldstein, Kabbage's Rob Frohwein and Dr. Zane Wang from China Rapid Finance as they discuss Attitudes Towards the Public Markets on the main stage at 11:30 am April 11th.
Hsieh and Goldstein, whose companies have recently partnered in an effort to further expand their capacity to connect borrowers with the credit products they need, share a passion for the #FinTech space and this topic, in particular.
Hsieh's LendIt conference appearance comes on the heels of multiple well-received presentations to the investment community, including Mortgage Banking Disrupters hosted by Bank of America Merrill Lynch, the Tech-Enabled Lending panel at the Goldman Sachs Financial Conference, the AREAA Global & Luxury Summit and USC's Marshall School of Business.
Here's why the #FinTech and investment communities are interested in loanDepot:
Also, at #LendItUSA on Mon, April 11th, loanDepot's CFO Bryan Sullivan will be sharing insights on How Technology is Playing a Role in the Transformation of Mortgage Finance in the Club Room at 2:30pm. And our Chief Risk Officer, Brian Biglin will be on stage along with Realty Mogul's Elizabeth Braman and Patch of Land's Jillian Jaccard to discuss Trends in Real Estate Credit Underwriting in the Club Room at 4pm.
In addition, #TeamloanDepot executives will be on hand for meet and greets throughout the LendIt USA 2016 conference at our booth to discuss online lending and other #FinTech topics.
Can't make it to LendIt USA but want to follow the action? Follow us on LinkedIn, Facebook, Twitter and Instagram to stay up-to-date with all of the important details you won't want to miss!