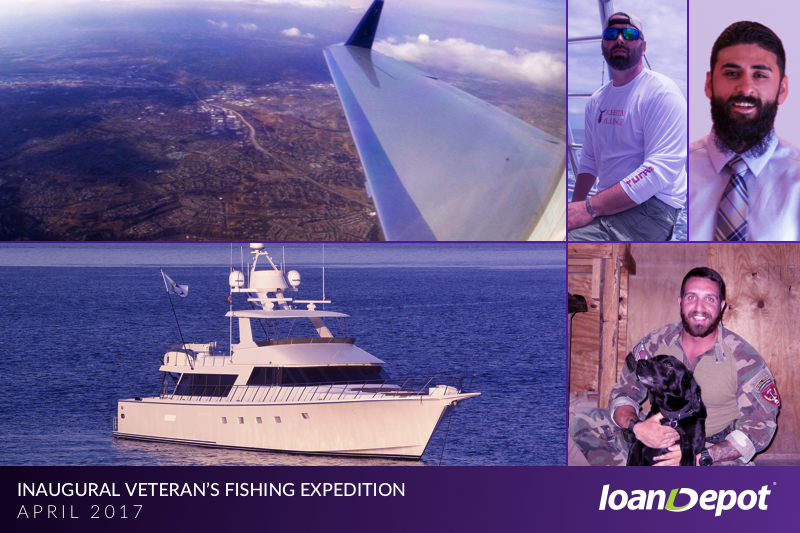 Next week, seven decorated veterans will experience the trip of a lifetime thanks to Freedom Alliance, our CEO Anthony Hsieh and #TeamloanDepot. Hsieh will be flying with the veterans to Cabo San Lucas, Mexico, on his personal Gulfstream jet and spending the weekend with them aboard his tournament-rigged 100-foot yacht, Bad Company, for a three-day fishing excursion from April 28 to 30.
When asked about the trip, Hsieh replied, "I'm honored to host this trip for our veterans. These brave Americans have sacrificed so much for our country. And I'm excited to share my weekend and my love of the ocean and deep sea sport fishing with these true American heroes."
While each veteran has their own inspiring story about their military service, we are highlighting three of the fishing trip participants here:
Staff Sergeant Nick Kefalides
Kefalides served more than 10 years with the Marine Corps. His career, which spanned over five combat deployments, included roles as an infantryman and then as a critical skills operator with Marine Special Operations Command (MARSCOC). During his service, he was exposed to 12 improvised explosive devices (IEDs), which resulted in spine surgeries, concussions, and a traumatic brain injury (TBI). He is currently Freedom Alliance's Veteran Ambassador, and lives in Lake Worth, Florida.
Corporal Josh Mccart
Mccart served in the Army for five years from 2005 to 2010. During his second deployment to Iraq in February 2007, he was injured in an IED blast and had his right hand amputated as a result. He lives in Smith Station, Alabama with his wife and their two sons.
Army Staff Sergeant Mike Nares:
Nares served two combat tours in Iraq. While deployed in Afghanistan in January 2010, he was injured in an ambush. He has been honored with two Purple Heart medals and two Bronze Star medals with the "V" device for valor. He currently lives in Ventura, California.
The participating veterans were chosen through the help of Freedom Alliance, a charity that supports the rehabilitation needs of wounded service members, combat veterans, and military families. Hsieh has been a long-standing supporter of our country's veterans, posting statements of gratitude on social media and encouraging #teamloanDepot's ongoing work to provide active and retired members of the military with VA home loans.
The fishing trip is an opportunity to assist the veterans in their ongoing rehabilitation. While aboard Bad Company, they'll experience world-class fishing with Captain Steve Lassley and will enjoy gourmet meals and accommodations. During the adventure, each guest can connect with other veterans also transitioning back into civilian life.
We'll be posting more trip updates, so be sure to check back for the latest information.
Our heartfelt thanks go out to all veterans for their service to our country, and to our friends at Freedom Alliance for introducing us to an amazing group of patriots.
Are you motivated to work at a company that values helping others and making life-changing commitments to the veteran community? Email your resume and area of interest to hello@loandepot.com