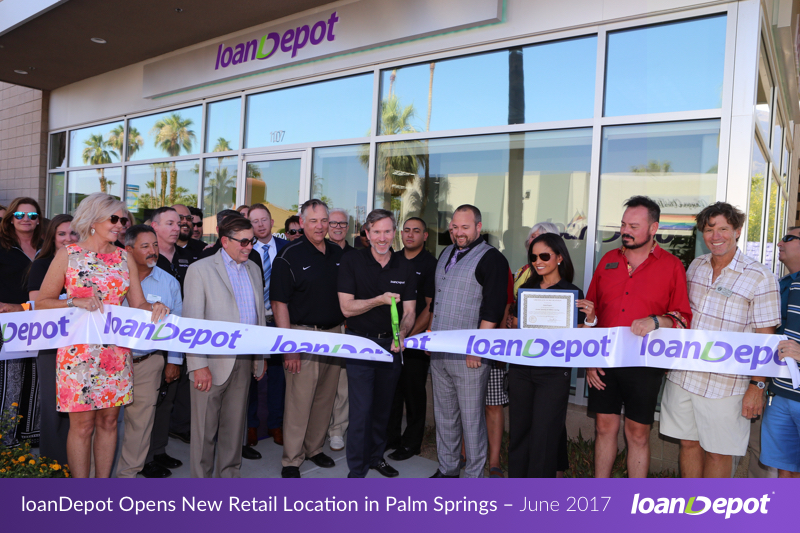 At loanDepot, ensuring that responsible borrowers have access to the funds to fuel their dreams is a top priority. It's a focus that includes expanding our physical locations across the United States which is why we're delighted to announce the debut of our newest lending store. Set in the heart of Palm Springs' uptown Design District, prospective borrowers will experience our exceptional customized service in person while learning about our deep suite of lending products.
Helping us celebrate the official ribbon-cutting ceremony included Palm Springs Mayor Robert Moon, along with local dignitaries, lending professionals and builders and our real estate partners. Invited guests enjoyed a purple carpet VIP arrival experience as they entered our new location, which features a clean, modern design that is reflective of our company's future-forward, technology-first vision.
"We're excited to open our first loanDepot lending location in Palm Springs as we expand our footprint in the Coachella Valley. We've been warmly welcomed and are looking forward to helping more borrowers with their lending needs," said branch manager Ron Stowers.
The Palm Springs team includes a hand-picked selection of lending professionals who are not only well versed in flexible finance options for home purchase and refinance, and personal and home equity loan products, but who also offer exceptional expertise specific to the desert region, including the financing of leased land, renovation projects and vacation home purchases.
Is being part of a cutting edge, innovative organization important to your career growth? Connect with us at hello@loandepot.com to share your interest and explore your path with us.