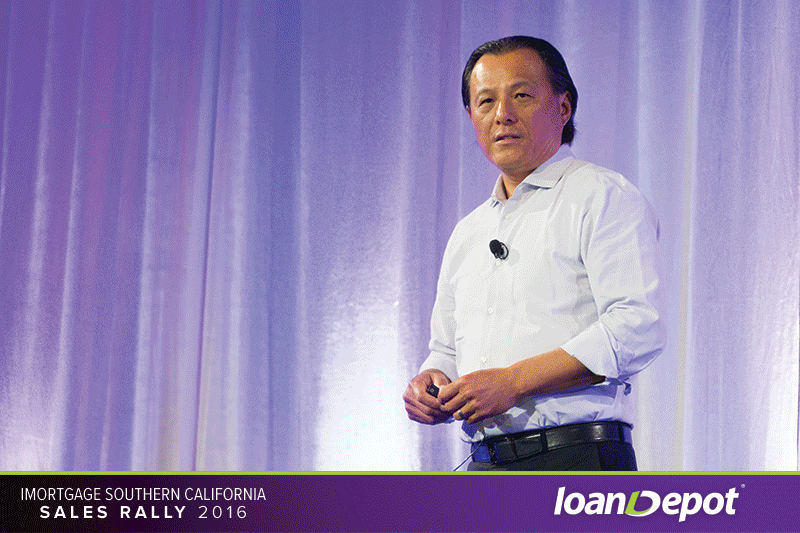 Alec Hanson, vice president of regional production, brought hundreds of Southern California-based production and operations associates to the Disneyland Hotel. The memorable day was filled with valuable industry insights, well-deserved accolades and plenty of laughs in between.
The morning began with loanDepot's chairman and CEO, Anthony Hsieh, sharing his vision for the company and his perspectives on the state of today's consumer lending industry. He also discussed the company's continued investment in technology and product development.
"We must continue to transform and innovate to lead the industry," Hsieh said. "Our company will grow faster when the industry grows slower. We're at the strongest financially since our inception."
Following Hsieh was motivational speaker Casey "Blade" Cunningham, who wowed the audience with her tips on how to become needle movers for build sales and nurturing business relationships. An industry favorite, Cunningham displayed a hands-on approach that resonated with the appreciative crowd.
Well-deserved awards and accolades were given out to top-performing team members during an al fresco luncheon on the lawn of the Disneyland Hotel, after which the rally shifted back into business. Dan Hanson, executive vice president, national production-retail, and Dean Bloxom, president-retail, took to the stage to provide valuable insights about the opportunities that lie ahead. Hanson added tips on social tools to the team's sales tool kit, presenting tips on how associates can use social media as part of their ongoing marketing efforts.
Between sessions, attendees visited the Marketing Expo, where they enjoyed a walk-through of the new iMortgage point of sale system. They also had the opportunity to participate in a new "Ask loanDepot" video shoot, and have new headshots taken by a professional photographer. One-on-one professional social media counseling was provided at the Social Media Lab, where the loanDepot social team offered recommendations on how to optimize their social efforts on Facebook, Twitter LinkedIn and Instagram.
Interested in joining a team where executive leadership rolls up its sleeves and joins you to get the job done? Want to be part of a team where the executive leadership actively invites your opinions? Email your resume to careers@loandepot.com today.