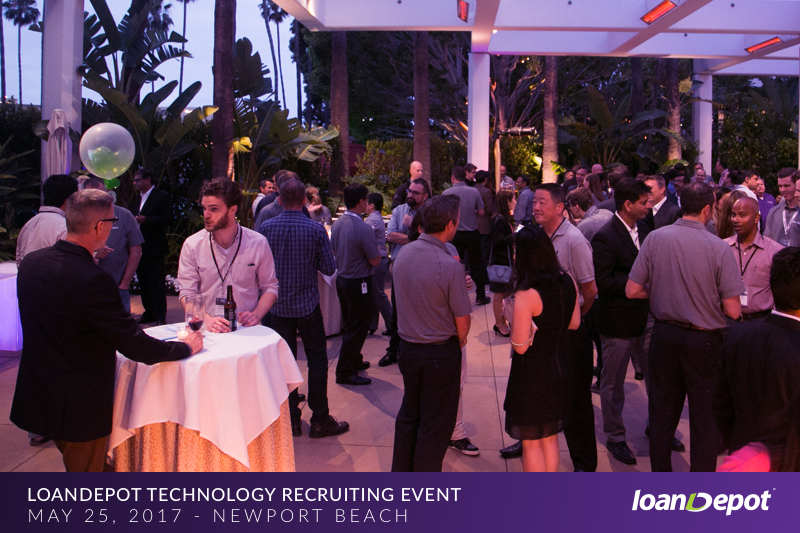 Last night, loanDepot hosted an evening social tech recruiting mixer out on the patio at the Island Hotel in Newport Beach. Invited guests included the best and brightest technologists in SoCal who showed us what they've got and their interest in bringing vision to life through advanced technology. Nearly 175 hopeful candidates joined our executives and technologists, including CEO and Founder Anthony Hsieh and Chief Technology Officer Dom Marchetti.
During the event, our top executives mixed and mingled with guests and talked about loanDepot's energy to disrupt the financial services industry by leading the charge into the digital world.
"It's still very early within our industry and the digital disruption that changed the consumer experience in online books, home entertainment and consumer goods is just now impacting financial services," Hsieh said. "Similar to category leaders in those verticals, we can't predict what opportunities will develop within financial services."
In March, the company announced its mello™ platform, the end-to-end technology platform reflecting the company's commitment to technology as a core business strategy and differentiator. This proprietary digital lending platform is part of an $80+ million investment in technology signals the company's commitment to developing the fintech ecosystem of the future.
"By leveraging our deep experience in loan origination, and combining it with the best product and technology talent available, we are building a tech ecosystem that enables us to quickly venture into ancillary services and markets unknown to us today," Hsieh continued. "As a result, we have the power and flexibility to shape and define our journey as we advance toward our ultimate position as a nationally-known household brand."
The company also demonstrated its focus on innovation through technology by recently committing to opening a new 65,000 square foot mello ™ tech campus in Irvine, Calif. It will be at this newest technology campus where loanDepot's 400+ tech team continues its work of transforming the future of modern lending.
"The best technology is totally transparent," said Marchetti. "It does what it is supposed to do in the background. Our technology is very complex and it makes the user experience very simple. That's why we're hiring the very best people who can solve these very big challenges."
Interested in a career that enables you to help transform people's lives? Looking for a job opportunity that allows your tech skills to shine? Email your resume and area of interest to hello@loandepot.com.