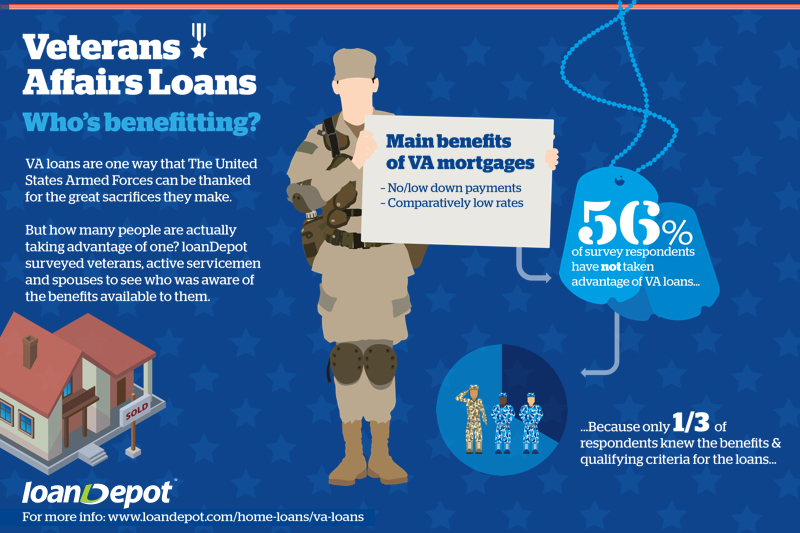 One of the ways that the government thanks our brave servicemen and servicewomen is through offering Veteran Affairs loans. Created in 1944 as part of the GI Bill of Rights, the loans are meant to help active service members, veterans, and eligible surviving spouses achieve the American Dream of homeownership. The VA does so by guaranteeing a portion of the loan, which enables companies such as loanDepot to provide these more flexible mortgages.
However, in a recent national survey, two-thirds of veterans said they are not fully aware of how to qualify for a VA loan nor the benefits of securing one. Additionally, we found less than half (44%) of veteran homebuyers used a VA loan. Veterans under 45-years old (60%) were much more likely to have a VA loan versus their older counterparts (37%). Click here to see full survey infographic.

Top benefits of VA loans include:
More than 90% of VA loans require no down payment

Does not require mortgage insurance

No pre-payment penalty

You don't have to be a first-time homebuyer

VA loans are reusable, meaning if you've outgrown your home and need a bigger one, you can sell the home and pay off the VA loan completely, then re-use your benefit to purchase another home

The guidelines are more lenient for lower credit scores, bankruptcy and foreclosures. Unlike other loan programs, these events don't necessarily disqualify borrowers from a VA loan.
In 2014, loanDepot worked with the U.S. Department of Veterans Affairs to develop a VA Renovation Loan Program to assist veterans in securing financing for home renovations that allowed veterans to make updates to their homes, including retro-fitting for accessibility, when needed.
Honoring the Heroes Among Us
In May, loanDepot CEO and Chairman Anthony Hsieh hosted seven decorated military veterans from around the country on a three-day fishing excursion in Cabo San Lucas, Mexico aboard his tournament-rigged 100-foot yacht, Bad Company. The trip was truly the adventure of a lifetime for his guests, who were selected with the help of Freedom Alliance, a charity that supports the rehabilitation needs of wounded service members, combat veterans, and military families.
In September, a loanDepot licensed lending officer and active national guard member, GP Sandhu, Army National Guard Specialist from Texas shared the story of his first deployment in the wake of hurricane Harvey for search and rescue efforts.
For more information on the VA loan benefit, speak with a loanDepot Licensed Lending Officer today at (888) 983-3240