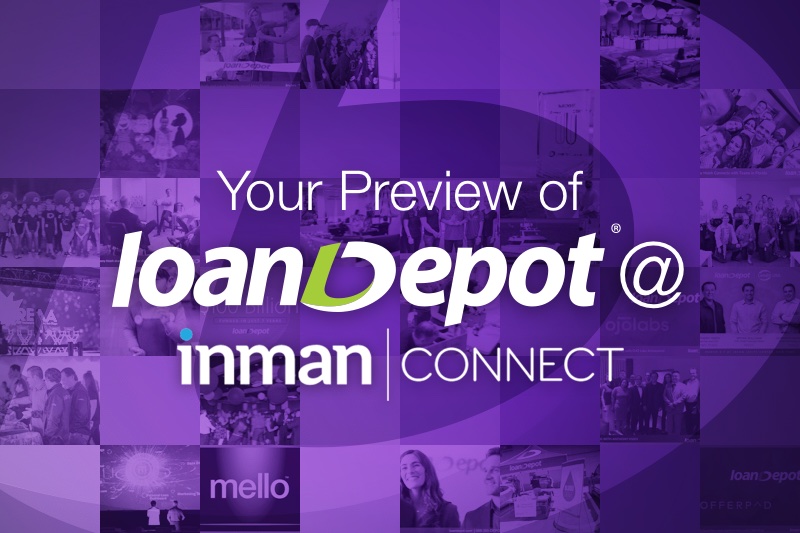 Eight-year-old financial technology leader loanDepot is starting 2018 full speed, with our CEO and Founder Anthony Hsieh being the first ever lending CEO to take the stage at Inman Connect in New York, the nation's largest real estate industry conference. Anthony will do a fireside chat Wednesday, January 24 with conference host and Inman News founder Brad Inman to discuss how real estate services are converging because of technology.
"Twenty years ago, Amazon began by selling books with a relentless commitment to proprietary technology and customer care. Now they serve the consumer in almost all areas of retail," said Anthony. "A similar trend is beginning in housing. We started with mortgage and a relentless commitment to proprietary technology and local customer care. Now you'll see us expanding our brand family similarly in housing while helping local loan consultants and other housing pros grow their businesses and serve their customers better."
Next Wednesday, Anthony will explain how technology is making not just lending but many other areas of home owner's journey easier.
These large technological shifts are commonly called "disruption" because they disrupt whole industries to better serve consumers. But unlike other industries, this financial and real estate technology trend doesn't displace local pros giving local advice throughout the U.S. It actually makes it easier and faster for local loan consultants and other pros to connect with the people in their communities who need their services most.
You're surely wondering: How?
Stay tuned for more previews before the Inman event, and a full announcement to be released concurrently with the event.
And if you're attending Inman Connect, loanDepot will be available throughout the duration of the conference in our hub lounge experience, where you can connect for refreshments, recharge your devices, and learn more about everything in the loanDepot universe.
Need to stay in the loop on all loanDepot happenings between and during Inman Connect? Jump on our social channels to see all the latest.