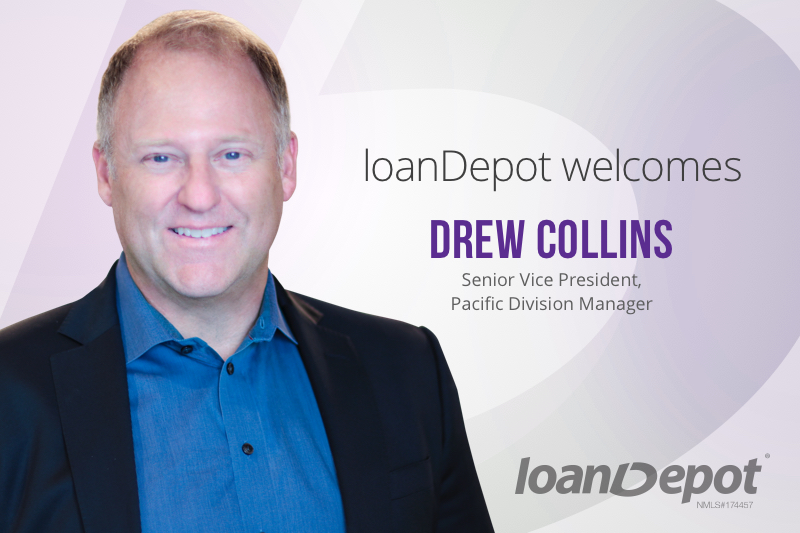 As #TeamloanDepot continues to see growth and expansion, we're pleased to welcome our newest leader, Drew Collins, as senior vice president, Pacific Division manager. An established veteran of the lending industry, Drew most recently managed a sales force serving the western district of California, Nevada, Oregon and Hawaii – a best-in-class team of more than 2,200 originators with total market share of 12 percent. Drew's onboarding reflects our continuing strategy of pairing top industry talent with proprietary, groundbreaking technology.
"Drew brings a wealth of lending and leadership experience to our expanding retail business," said Dan Hanson, chief retail production officer at loanDepot. "It's critical that we develop the leaders of tomorrow as we continue to succeed and deliver breakaway performance. Drew's leadership style and business savvy will help us propel loanDepot's Pacific division business."
As a team leader, Drew is committed to furthering the loanDepot culture of "all in" on behalf of our consumers, and setting team members up to develop into company as well as industry leadership. "As a business, it's critical that we're doing everything we can to help our teams succeed and connect our consumers with the major life goals they're reaching for." Within his team, Drew will focus on continuing the tradition of growth and achievement set for the organization from the top down by our visionary CEO and Chairman, Anthony Hsieh. At loanDepot, Drew will manage the production teams supporting activity in California, Nevada, Oregon, Washington, Wyoming, and Montana.
Said Drew, "The value of technology and innovation in terms of consumer experience today are undisputed. As we look to the future, we have to ask who's putting those goals first in lending? The commitments that loanDepot has already made to leading those drivers put us miles ahead."
Interested in a career where industry leaders like Drew cheer for your growth and are available to act as mentors? Check out the world of opportunities available to you at careers.loandepot.com.