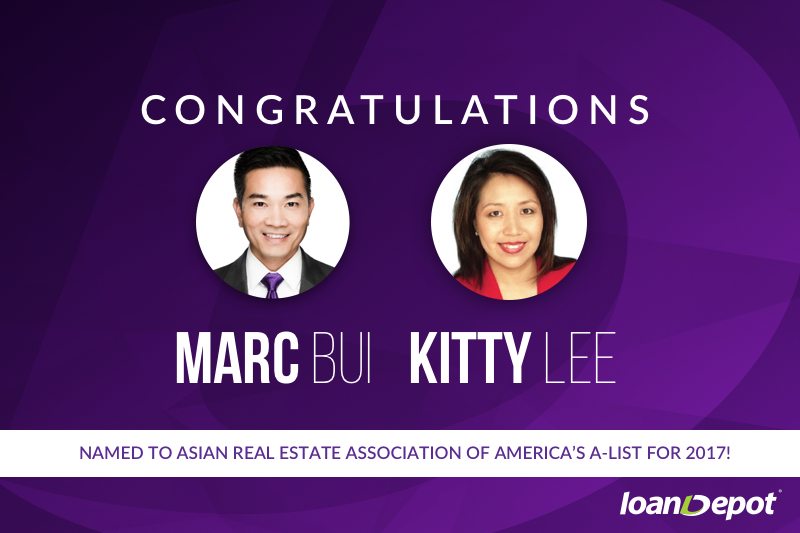 When you meet someone who's in love with what they do, you instantly want to know more. At loanDepot, we're surrounded by people who have an incredible drive behind their passion for helping others with lending issues and questions. Two of our very best, Marc Bui of Newport Beach, CA and Kitty Lee of Burlingame, CA were recognized for their contributions to the industry with the elite designation of being members of the A-List, as selected by the Asian Real Estate Association of America (AREAA) at its recent national conference in San Diego.
Having been a successful mortgage broker himself before coming to loanDepot, Marc was struck by the comprehensive vision of loanDepot's CEO and Chairman, Anthony Hsieh. "loanDepot was the only place offering a strategy that excited me – and one that had nearly limitless opportunities by being smarter about using technology with the best of the best in lending. I knew I had to be a part of that vision – no question." As branch manager of our local lending store in Newport Beach, Marc leads a team that helps customers each day and activates our tech-forward lending solutions – including mello – to reach their goals.
Lending veteran Kitty Lee has built her name on helping homebuyers in complex situations. "Having immigrated with my parents as a young child, I completely understand the needs and restrictions of buyers coming to America with dreams of homeownership. It's a massive goal for them – to have a place to feel secure and confident in the future." A senior loan officer fluent in both Cantonese and Mandarin, Kitty is an adept expert who has helped thousands find their slice of the American Dream. "To me, the ultimate reward is now being able to help the children and even grandchildren of the customers I helped find their footing here – I'm immensely grateful for the opportunity to ensure their experience is great each time," she said.
It's said that when you're passionate about what you do, you'll never work a day in your life. If you're open to new opportunities, explore careers.loandepot.com to see if your next chapter might be with us – and ignite the fire that our top producers have.