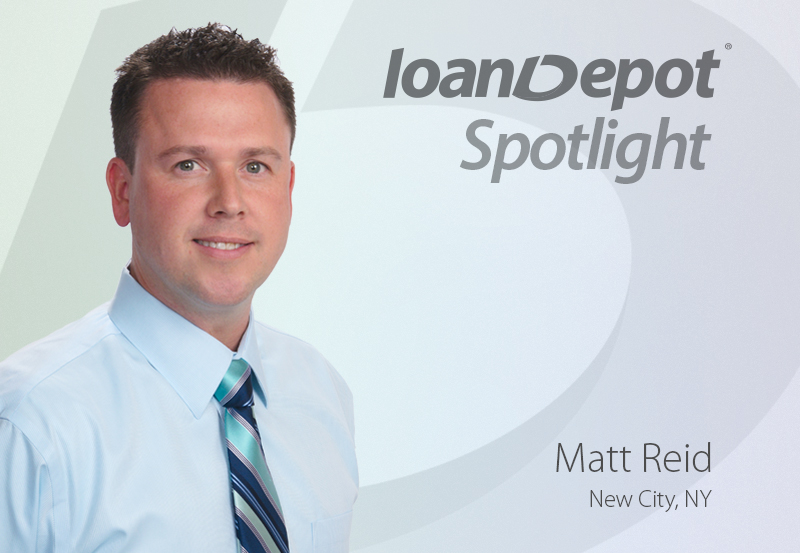 Empowering borrowers to access the credit they need to fuel their lives and achieve their dreams is a daily goal for Matt Reid, manager at loanDepot's Mortgage Master in New City, New York. Matt Reid says he was drawn to loanDepot by our diverse suite of innovative lending products, state-of-the-art technology and transparent management team.
"At other companies I found the management and sales teams were always at odds, but not here," he says. "It's actually the opposite at our company. Management and production both do all they can as partners to put licensed loan officers in a position to succeed."
That open-door policy and access to decision makers makes a big difference when it comes to closing more complicated loans. For example, Reid was able to help a husband and wife who had been turned down by their bank after a nine-month-long application process. The couple was attempting to downsize from their family home of 30 years to a new-construction home, but credit issues derailed the process.
"Conventional financing wasn't the best option for them, so we found a better alternative, and closed the new-construciton loan within six weeks," explains Reid. "Problems arise in any business, but here, people step in and find an objective solution as quickly as possible. The commitment to the success of both our borrowers and our employees is incredible, and evident in all that we do every day."
Reid, a married father of three who also serves as the president of his local Pearl River Chamber of Commerce, says it is loanDepot's high-tech, high-touch culture that fosters the type of lasting relationships he has with his customers.
"While our loan volume is tremendous and loanDepot is a leading national brand, it feels like we work at a small local business interested in helping people in our community," says Reid. "It is very comforting to know we offer industry-leading technology and quality service in a fun, low-pressure environment."
Reid says that even though technology plays an important role in closing loans quickly and on time at loanDepot, it's the company's dedication to our licensed loan officers that differentiates us from competitors.
"We have the technology, but unlike other lenders, we also have the support of our executive team, which puts its full faith and resources behind its mobile licensed loan officers," he says.
Interested in joining loanDepot? Email your resume to careers@loandepot.com today.