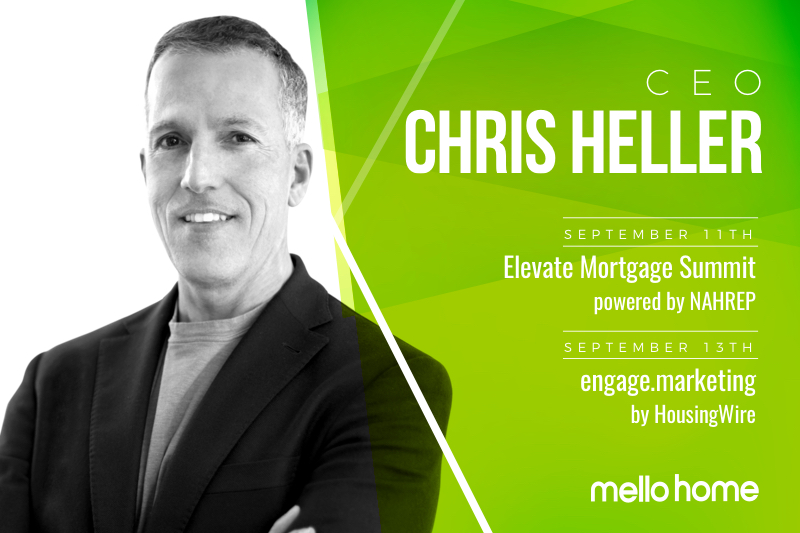 September will be a month to remember for NAHREP and HousingWire event attendees as mellohome CEO Chris Heller takes the stage to talk about shifting trends and emerging models that are currently impacting the real estate industry.
On Tues., Sept. 11, Heller will be at NAHREP in San Diego, CA, where he will be joined by Simon Chen, CEO of ERA Real Estate, and Rick Arvielo, CEO of New American Funding, for a lively panel to discuss the dramatic impact that technology and shifting demographics are making on the real estate market. Attendees will enjoy exclusive insights from industry experts on how to prepare for and thrive after the soon-to-arrive real estate evolution. The session will be followed by a keynote presentation from best-selling author and leadership expert John Maxwell. Visit to learn more about the Elevate Mortgage Summit.
On Thurs., Sept. 13, Texas, Heller will serve as keynote speaker at HousingWire's engage.marketing event to discuss how technology is a differentiator in today's—and tomorrow's—real estate markets. Following his keynote, Heller will sit down with HousingWire's Sarah Wheeler to discuss emerging trends and how real estate professionals can stay ahead of the evolution rather than get lost in the revolution that is coming for real estate professionals. Visit to learn more about the engage.marketing event.
A real estate titan with more than 30 years' industry experience, Heller has witnessed an array of real estate cycles that make him uniquely able to provide guidance to today's real estate professionals. Formerly CEO of Keller Williams Real Estate, Heller joined forces with loanDepot's Anthony Hsieh earlier this year to create mellohome, a new model that is revolutionizing the real estate industry as we know it today.
You can follow Heller on LinkedIn and Twitter. Follow mellohome on LinkedIn, Facebook and Twitter.