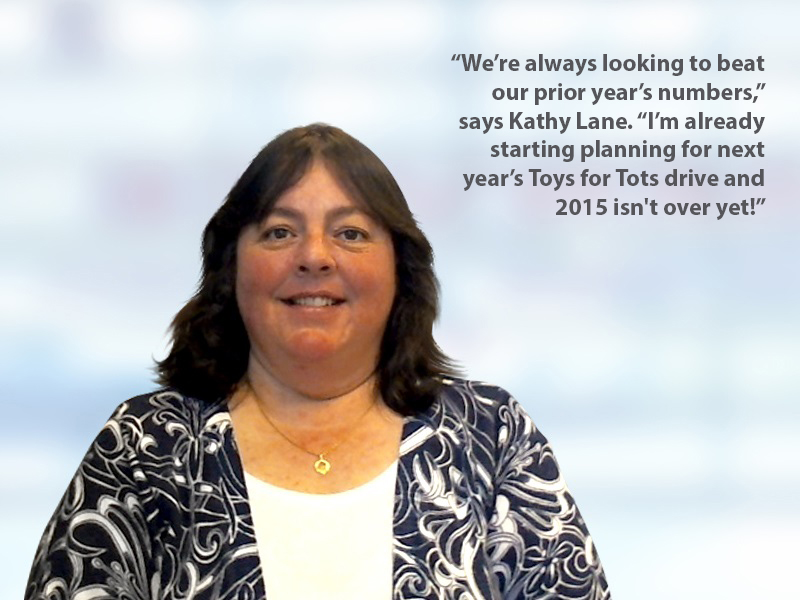 For Kathy Lane at Mortgage Master, giving back to the community comes naturally. So does her strong work ethic. Put the two together and you have a charitable efforts force to be reckoned with.
Kathy joined Mortgage Master, a division of loanDepot, in 2001 as a processor. Over the years, she's worked in a variety of roles, joining the division's accounting team in 2005 as payroll manager.
"I manage the payroll department," explains Kathy. "My world is awesome; it's a lot of work, but I really love it and it's awesome."
In addition to her duties managing payroll, Kathy is also on the front lines helping lead the charge for Mortgage Master's community giving programs.
"In 2005 we started giving to Toys for Tots," recalls Kathy. "I was very excited when we made that decision. That first year, we collected 37 toys and I was so pleased to see them by my desk."
A great start, but no match for Kathy's focused, determined and enthusiastic nature. Not surprising, within 10 years thanks to Kathy's leadership, Mortgage Master's Toys for Tots collection has grown by the thousands...of toys, that is.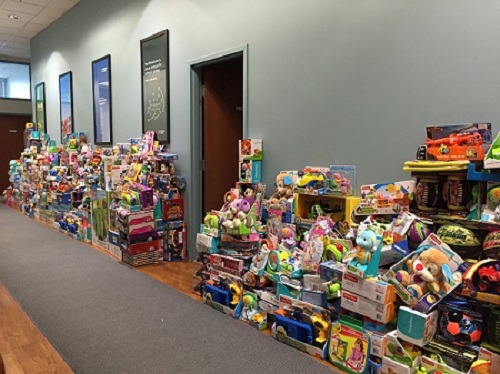 "This year we collected $16,430, which enabled us to buy more than 1,681 toys," Kathy explains with pride. "Using Kohl's cash, we were able to spend an additional $1,840 for a total donation of $18,270 in toys. That makes for a very happy Christmas for so many boys and girls!"
This record-setting amount for Mortgage Master is due in part to Kathy's commitment. Using the money collected, Kathy shops on Black Friday, a day she says enables her to get the most toys at the best deals. Combined with additional store offers, Kathy earned an additional $1,840 in department store credit that she turned into hundreds of toys.
But her giving and commitment doesn't stop there! Kathy also comes in to the Mortgage Master offices over the Thanksgiving holiday every year and creates a toy wall with the toys purchased. This extra touch, she says, encourages continued donations and participation.
And, with loanDepot's 'Together We Give' program, each toy donated is matched with an additional $10 from the company, almost doubling the Mortgage Master team's efforts.
"loanDepot's Together We Give program is just awesome," adds Kathy.
Not one to rest for long, Kathy is now spearheading Mortgage Master's food drive, collecting food for the Walpole, Massachusetts, Food Pantry, an effort that will extend through the end of January. She also is overseeing their participation in a local 'Coats for Kids' fundraiser.
"We do a wicked lot of good things here at Mortgage Master," explains Kathy. "Toys for Tots, the coat drive, the food pantry collection, backpacks for back to school, United Way, cancer awareness – plus many other events throughout the year. They're all so important to our communities and to our employees here at the company."
Kathy's goal at all times: Motivate more people, make it fun and make a difference.
"We're always looking to beat our prior year's numbers," says Kathy. "I'm already starting planning for next year's Toys for Tots drive and 2015 isn't over yet!"
What does Kathy like most about her career with Mortgage Master? "You have the freedom to be whatever you want to be," says Kathy. "You learn something new every day and have the opportunity to improve every day."
She also has excellent advice for anyone interested in joining the Mortgage Master family: "Be positive and be ready to work hard," she says. "But if you have a great attitude and you keep setting goals for yourself, you'll do great. Everyone here is great to work with and the opportunities are limitless."
Mortgage Master is a division of loanDepot, America's lender.