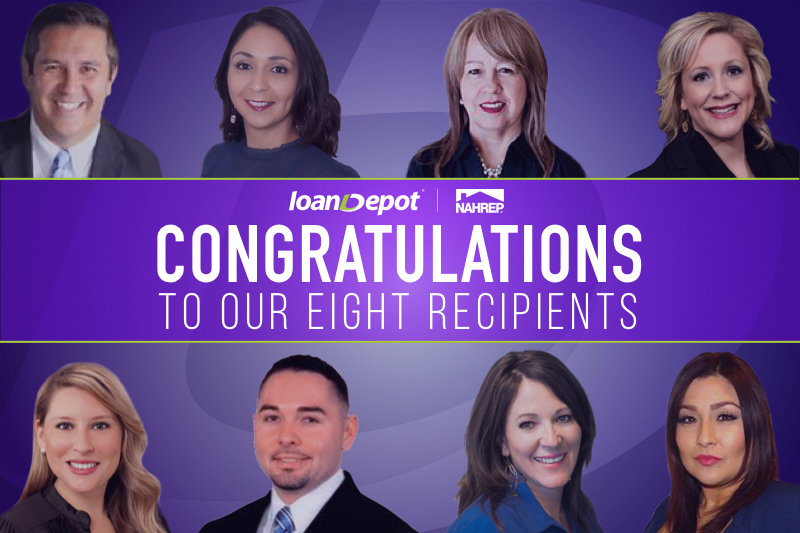 Our loanDepot associates don't just perform with volumes, they represent a commitment to cultural diversity that makes us better together – stronger and more understanding of our customers and referral partners – and powers our continuing successes and growth.
Eight individuals were honored by the National Association of Hispanic Real Estate Professionals for their achievements as part of the nation's top 250 Latino mortgage originators. Each individual's unwavering dedication to assisting consumers can be accomplished only through an intense commitment, which is why we're proud to call them #teamloanDepot. They excelled daily, bringing their all-in attitudes and working to make a passionate difference in the communities where we do business—values shared from the top down that are personal commitments from our CEO and founder, Anthony Hsieh.
"A highly skilled loan originator can make a complex and intimidating process much easier for everyone involved," said Leo Pareja, NAHREP President. "NAHREP applauds the accomplishments of the Top 250 Latino Mortgage Originators for making home buying an attainable goal for a sometimes underserved market."
The 2016 honorees are:
Edgar Ibarra, Sales Manager, Santa Clarita, California
Melissa Guerra, Loan Consultant, Lisle, Illinois
Rosie Alcaraz, Loan Consultant, Lancaster, California
Lollie Figueroa, Loan Consultant, Bakersfield, California
Dora Ibarra, Builder Loan Consultant, Fort Worth, Texas
Stephanie Holdener, Loan Consultant, Houston, Texas
Jose Salazar, Loan Consultant, Lisle, Illinois
Hedda Serafini, Loan Consultant, Katy, Texas
Are you passionate about developing your career where top performers are available to mentor and interested in your growth? At loanDepot, that's part of what we do every day. Email us at hello@loandepot.com with your résumé and area of interest.