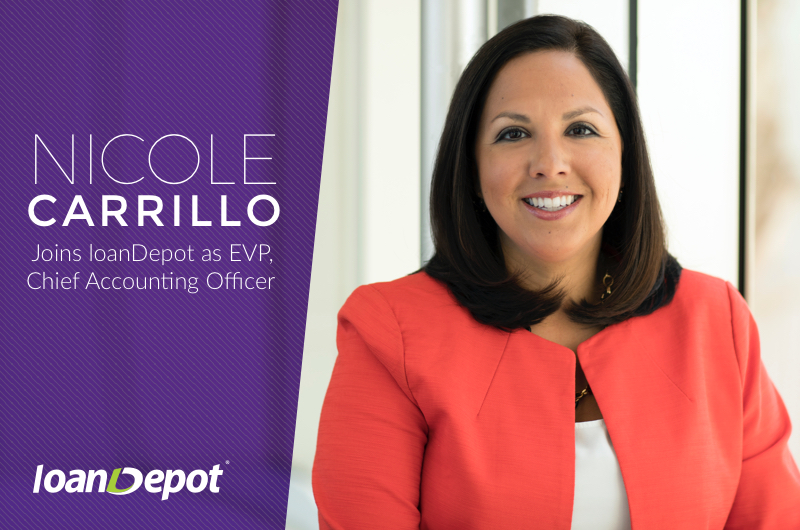 Fintech leader loanDepot continues to attract top talent from across the country, assembling a world-class team dedicated to helping American customers as it evolves into a convenient, one-stop lending shop. As part of that growth, Nicole Carrillo has joined loanDepot as Executive Vice President, Chief Accounting Officer. In her role, Carillo will be responsible for developing and managing the financial and accounting operations of loanDepot.
"The opportunity to join a company that is actively merging cutting edge technology with a proven business model is very appealing," Carrillo said. "loanDepot's executive team is crafting an innovative approach that is going to take the lending industry in new directions—and I really want to be a part of that journey, and to provide best-in-class support for the company's operations."
Bryan Sullivan, loanDepot's Executive Vice President, Chief Financial Officer, is delighted to have Carrillo join the team. "I've been following Nicole's career since we worked together at KPMG," he recalls. "It's exciting to have Nicole join loanDepot because of her experience as both a Chief Accounting Officer and a CFO. She has experience managing high growth organizations, both organically and through acquisitions, and ultimately her public company experience."
Carrillo brings more than 17 years' experience to her role, most recently as chief financial officer and executive vice president of Opus Bank, where she oversaw all accounting and financial functions, including financial performance, planning and reporting, liquidity management, investment portfolio performance, capital and interest rate risk management and coordination with external auditors, investors and banking regulators. She was also part of the management team that led the company through its initial public offering in 2014.
Prior to Opus Bank, Carrillo was a senior manager in the audit practice with KPMG LLP serving a variety of private and public financial services clients.
"loanDepot is unique both for its industry trailblazing but also for its people," added Carrillo. "Everyone is excited to be here; they're enthusiastic about what they're contributing to the company's journey and for what the company is accomplishing. There's great energy throughout the organization."
Carrillo received her Bachelor of Science in Accounting from Loyola Marymount University and is a California Chartered CPA. She also is a board member of the United Way of Orange County and the Boys and Girls Club of Central Orange Coast.