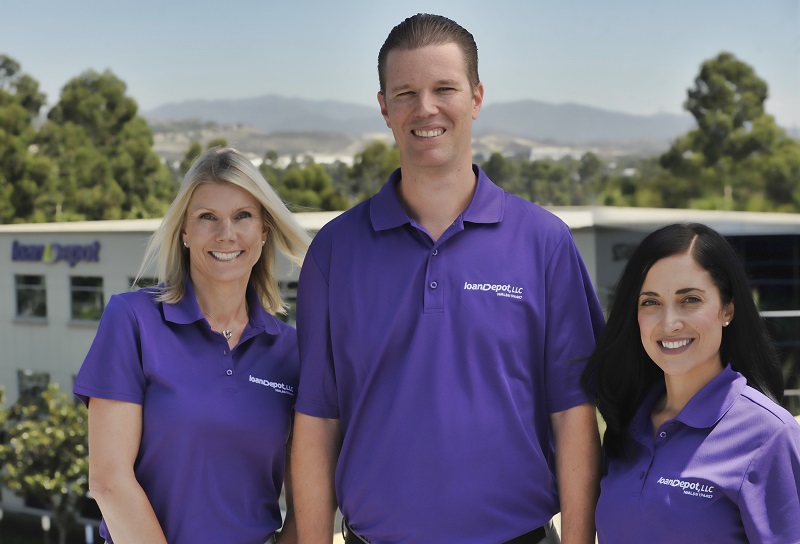 When loanDepot Chairman and CEO Anthony Hsieh wants to launch an initiative, turn attention to a borrower issue, or increase his understanding of an important issue, he often turns to his dedicated staff in the Office of the CEO.
These three elite executive directors – Cece Palmieri, Erika Sanchez and Hugh Cromartie – have become masters of a wide variety of issues and topics, ranging from company operations to customer service, as they deliver world class service to the chairman of the nation's second largest nonbank retail lender, Anthony Hsieh.
"Wherever he turns and focuses his attention, we're there," said Hugh Cromartie. "We support him in any way he needs and handle daily activities so he can do what he does best – strategically lead our nearly 5,000 employees and company into the future."
While Hsieh's core management team leads more than a dozen divisions and departments, all with the mission of becoming America's lender of choice, the Office of the CEO is different.
Their multiple roles span the company, acting as a thread that ties it all together for our chairman. Whether they are resolving complex customer service situations, acting as Hsieh's liaison, drafting policy, or managing his fast-paced schedule, the Office of the CEO is always on alert and at the front of the curve providing our chairman and the company with excellence.
Erika Sanchez, who joined the Office of the CEO six months ago, brings more than 14-years of experience in the lending industry to the Office of the CEO that includes management of loanDepot's customer care department. This comes in handy when working with borrowers who are engaged with the Office of the CEO with questions or requests.
"Anthony cares so much about every single borrower and every single employee," Sanchez said. "He reads every email and loves hearing from individuals. I've never seen a CEO who is as engaged as he is. We help him do that, and enjoy every minute."
Cece Palmieri, who has served as Hsieh's personal assistant for more than 17 years, uses her experience to stay ahead of the curve on a wide range of issues and needs.
"I have the privilege of assisting Anthony in making his vision a reality. My goal each day is to organize his schedule to free up as much time as possible so he may focus on strategic plans for our company," she said. "After so long, you'd think some things would become routine. But that certainly isn't the case when one works in the Office of the CEO for a leader like Anthony. Every day is a new and exciting challenge with purpose."
Hugh Cromartie was a loanDepot credit policy specialist before joining the Office of the CEO, and is considered a deep subject matter expert in loan underwriting. This useful background was very helpful recently when he helped a loanDepot customer with their purchase loan as a first time home buyer. Thanks to Cromartie's experience, he was able to help a loan processor resolve an issue on the home loan application caused by lending practices particular to the state of Florida. As a result, the family was able to buy the house that will become their first home.
"Cece, Erika and Hugh are an outstanding team that enables me to focus on so many important initiatives for the company, our employees and more importantly our borrowers," said Hsieh. "The service they provide lifts the entire company and is a great example of how a commitment to excellence every day makes a difference. I simply cannot function without them."