Expansive growth. Limitless possibilities. Unparalleled opportunity. All of these phrases accurately capture the current career landscape at loanDepot. We're confident it's what attracted our newest #TeamloanDepot associates to join us in our commitment to provide best-in-class service to responsible borrowers nationwide.
While the Bureau of Labor Statistics reported that the financial sector showed little or no change over the month of September, nothing could be further from the truth for loanDepot. To the contrary, we've added more than 150 new hires in the past six weeks, and we see no signs of slowing.
As long as Americans continue to dream, to build and borrow – #TeamloanDepot will be there to support their vision. And, to aid responsible borrowers in their efforts, we're disrupting the financial sector – changing the lending landscape, as it were – to ensure their needs are met. This change in "business as usual" is creating never-before-seen opportunity for individuals interested in a career in the fast-paced next-gen marketplace lending sector.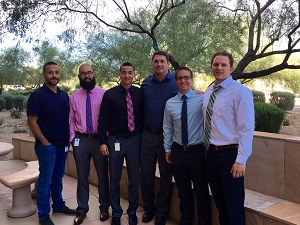 Today we are extremely proud to welcome our 50 newest #TeamloanDepot associates to our Arizona, California, Tennessee and Texas offices: Mohamed Abbas, Reza Abbasi, Rami Abi, Amer Adawiya, Anthony Alvarado, Lara Amoroso, Payge Andrews, Alexander Arevalo, Dmitriy Bondarenko, Marcus Crumble, Nakachia Dorrough, Aaron Eilers, Connor Flynn, Nathan Frusti, Juan Garcia, Amanda Geck, Simone Gueringer, Shannon Hedin, Kevin Hofman, Cordell Hollins, Evan Housley, Timothy Howard, Khadijah Hutson, Mario Lara, Mark Manos, John Maurer, Kelly Morrison, Jennifer Newsted, Hien Nguyen, Taylor Nielsen, Karen Olson, Samuel Palmer, Matthew Plese, Robert Rhodes, Paulino Rodriguez, Vincent Ruiz, Hadi Salman, Donal Samuel, Yesenia Sandoval, Brent Scheffler, Shelby Smith, Mayra Soto, Dennelle Taylor, Jenine Tamimi, Richard Tate, Ashly Townley, Brandon Webb, Ilaiya Williams, Crystal Winter and Mohammad Zadeh.
Are you intrigued by the prospect of an exciting career with an emerging-growth national lender? We'd like to hear from you at careers@loandepot.com.