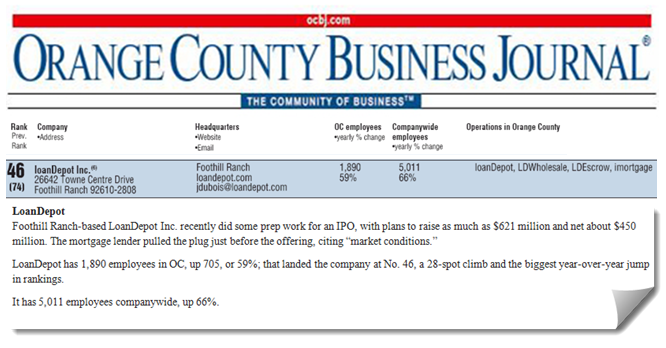 #TeamloanDepot wins again! Our company's impressive growth has propelled us to No. 46 on the Orange County Business Journal's 2016 Top OC Employers list. The 28-spot climb, from 74th in 2014 to 46th in 2015, is the biggest year-over-year jump in rankings of any of the 82 Orange County companies listed.
The leap is not surprising given our impressive month-over-month and year-over-year growth. In the second half of the year alone, we've added more than 100 employees EVERY month, and we have no plans to stop. What's especially impressive is our growth as compared to other companies headquartered in the area, including the Irvine Company, CHOC Children's Hospital, Broadcom, Oakley and Blizzard Entertainment. None of these well-known names have achieved our level of growth!
And, while Orange County is the heartbeat of our corporation, our company—and our divisions—are rapidly expanding nationwide. In fact, we've doubled in size in Arizona, and continue a rapid expansion in Texas and Tennessee, with more growth to come in 2016. We also opened offices in Lake Forest and Costa Mesa, California in recent months, bringing our Orange County employee count to 1,890.
What do we love about Orange County? As the Orange County Business Journal points out, Orange County has the best of everything California has to offer – from an impressive quality of life to an exceptional workforce filled with a diverse array of talents. And it's that top talent that we seek as we continue in our quest to help responsible borrowers nationwide access the financing they need to fund their family's and businesses' dreams.
From loan officers to loan processors, IT professionals to software engineers, business systems analysts to customer care representatives, if you have a desire to help people with their financial needs, there's a good chance that we have an opportunity for you.