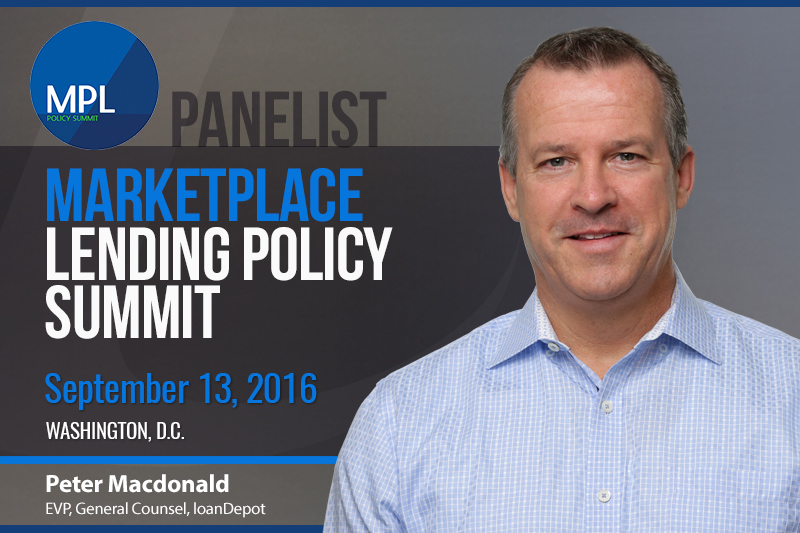 Leading lending experts and influencers, including loanDepot's Executive Vice President and General Counsel Peter Macdonald, will gather in Washington, D.C. on Sept. 13 for the first annual Marketplace Lending Policy Summit. The event brings together lenders, academics, attorneys, consumer advocates, and members of regulatory agencies to continue the discussions between the marketplace lending industry and the various regulatory agencies. It seeks to create opportunity for responsible industry participants to share insights, propose standards and provide regulators and policymakers with consensus viewpoints on the regulation of marketplace lending.
Macdonald will be one of the panelists for "How to Navigate State Laws and Regulators." Lending Club's Head of Regulatory & Government Affairs Richard Neiman will moderate the panel.
Additional topics for the day are: "Why Fair Lending Still Matters in an Automated World," "Hot Legal Topics in Marketplace Lending," "Building a Framework for Responsible Innovation" and a roundtable discussion of lessons learned and next steps.
North Carolina Congressman Patrick McHenry will provide the opening remarks and the lunchtime keynote will be delivered by Thomas Curry, Officer of the Comptroller of the U.S. Treasury Dept. Other dignitaries include representatives from the Federal Reserve Board and the Consumer Financial Protection Bureau.
The event is presented through a partnership between the Center for Finance, Law & Policy at Boston University and Cross River Bank and in conjunction with the Online Lenders Policy Institute. The Online Lenders Policy Institute's mission is to ensure consumers continue to benefit from the lower cost of credit and increased, convenient access to capital provided by marketplace lending while supporting consumer protections and a strong financial system.