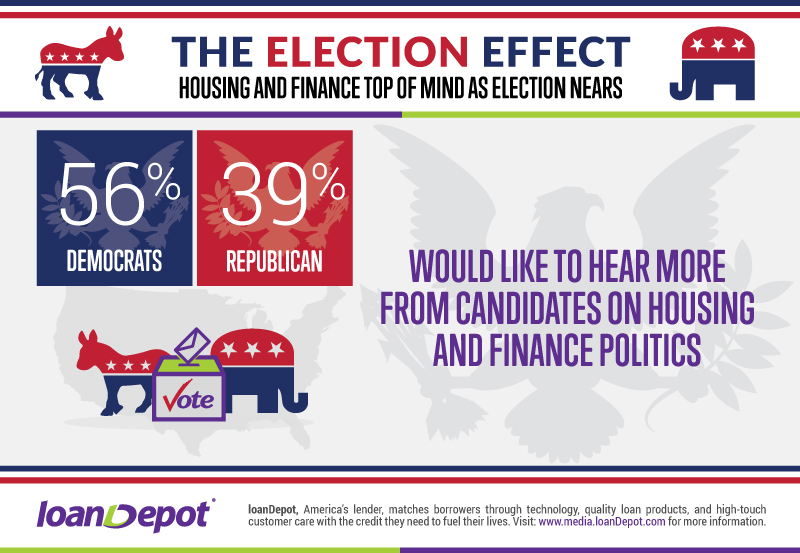 The upcoming general election this November, and how it will impact the White House and Congress, has American borrowers wondering how the future of housing and finance will be affected. loanDepot, America's lender, asked potential voters about their concerns, expectations and priorities related to the general election. Here are a few of their very interesting responses:
One in five Americans (21%) said a candidate's policies on housing and finance will influence their vote this November.
Nearly two in five (36%) said the candidates are doing a bad job articulating those policies.
Thirty-seven percent said making homeownership more affordable for middle-class and low-income families should be a top priority.
And finally, 34 percent said the next president should make it a priority to keep interest rates low.
"People across the nation told us they want to hear more from the presidential candidates about their housing and financial policies on issues like income, access to credit, interest rates and affordable housing," said loanDepot Chairman and CEO, Anthony Hsieh. "The candidate who does a good job in communicating their policies moving forward has an opportunity to influence millions of potential voters."
And that lack of information could be worrisome for some voters. In fact, through the survey, we found most respondents expect their financial situations to stay the same (66%) or get worse (24%) as a result of the upcoming presidential election, which could be due to a lack of information from the candidates about key policies.
As the first generation ever to outnumber Baby Boomers in the workforce, Millennials were expected to buy homes and reignite the housing market, especially at the starter-home level. However, 46 percent of Millennials said they are concerned about the election's impact on their ability to access credit while 36 percent said their biggest concern was not making enough money.
The study also found that popular perceptions of financial trends don't always match reality. For example, more Americans (38%) think it's harder to get a loan today than it was in 2008, while in fact loan denial rates were down in 2014.
For more on the survey and to see the full results, click here.