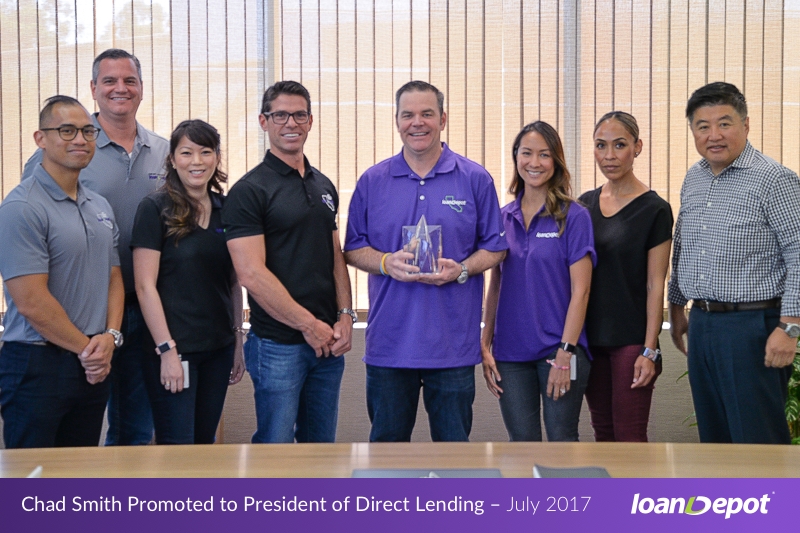 On Friday all eyes were on Chad Smith when our CEO and Chairman Anthony Hsieh used technology to surprise him with the news that he had been promoted to President, Direct Lending from EVP, Direct Lending. Our cameras captured the action; see the video below.
"Watching Chad's development over the years has been so rewarding for me to observe," said Anthony. "Knowing him now, as one of the most prominent and skilled direct lending executive leaders in the industry, I'm so proud to have overseen this last decade and a half, helping to shape his professional journey. And I know that journey is not over yet. There's plenty of road ahead that will see him continue to grow and innovate, helping power the next chapters of our journey."
Chad leads more than 1,000 of our direct-lending associates from the Pacific coast to the Eastern seaboard. He is deeply committed to developing his team members and empowering them to drive not only growth for the company but also develop their own career paths and find professional fulfillment while making mortgages cool again.
He credits his success to #TeamloanDepot: "I truly don't think there's a better team in the industry – we've built an incredible group of people who work together each day," said Chad. "Our difference is our people, and I appreciate all of you being on this journey with me."
Those gathered to witness the announcement in person and via videoconference included Alex Madonna, SVP, Sales; Brian Lee, SVP, National Processing; Bryan Owen, SVP, Production; Bill Goforth, VP, Sales; Dennis Wynant, VP, Sales; Jason Barto, VP, Sales; Giorgio Bertuol, VP Sales; Michael Guazon, VP, Sales; Chi Pham, VP, Sales Strategy; Tina Nguyen, Director of Processing Strategy and Carmen Arias, Executive Assistant.
When offering his congratulations to Chad, Bill said, "I knew the day I started talking with you, I wanted to be at loanDepot. Your guidance has helped me tremendously. You're able to take Anthony's vision and passion and articulate it in a way that allows us to put our footprint on it. Your promotion is well deserved."
"Chad, I want to thank you for not accepting mediocrity and always striving to be the absolute best," added Dennis.
Alex complimented Chad on "being transparent and honest with people."
"If you come to Chad with a situation, he engages fully and has an innate ability to coach," said Bryan. "He invests in you every day."
If working with leadership that believes winning is a team sport is important to you, reach out to us today at hello@loandepot.com with your résumé and areas of interest.