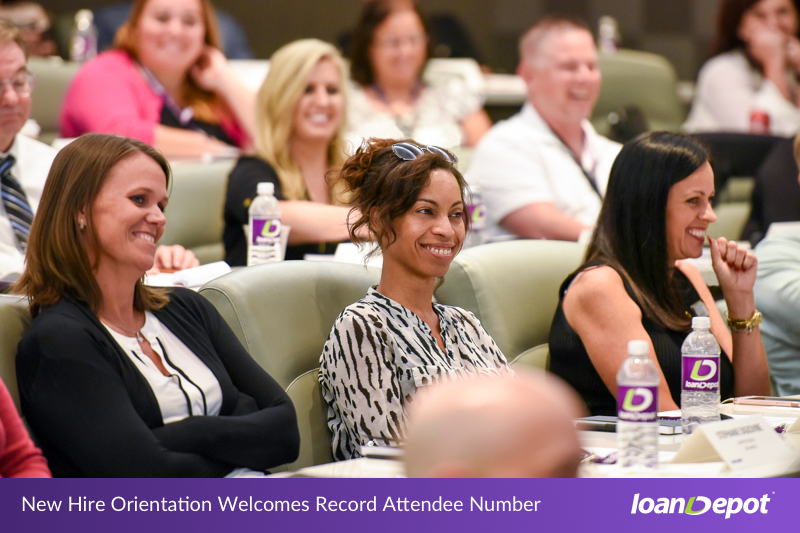 Last week a record-breaking number of new team members sat together as a training cohort to begin their loanDepot journey in Scottsdale, Arizona. More than 140 brand new team members came together for the first time in our training theater to hear from senior leaders and kick off their more specific trainings before assuming their roles at lending stores across the nation. The group gathering this week contains an especially high percentage of mortgage loan originators, drawn to loanDepot's unique package of tech-enabled consumer lending experiences and products, the cornerstone of which is mello™, our proprietary digital lending platform that includes an intuitive web-based consumer portal, a state-of-the-art mobile point-of-sale system, and a fully-digital mortgage loan application experience.
"I'm a part of the most exciting change the mortgage industry will ever experience," said Mike Aldridge of Kansas. "Looking around, it's incredible to see how many brilliant minds have worked together to create this engine of change! At loanDepot, we're truly at the forefront of something special."
Sharing the interests, values and vision of our CEO and Chairman Anthony Hsieh, these new team members will drive forward our mission of taking exceptional care of our consumers into the future. These newest team members will help us write the next chapter of loanDepot's continuing growth and ongoing revolution of the consumer lending experience.
"We're very pleased to see such strong turnout, month after month, at our new hire orientations here at loanDepot," said Patty Raymo, chief operating officer of retail lending. "For many people, joining the loanDepot team has the power to change their lives for the better. Speaking at these orientations, I can feel the energy and commitment these people have as they join our momentum. It's a palpable thing, and it's remarkable to see it every month."
"The overall experience has been great, and I'm stoked about the vision that loanDepot has for the future combined with the products they offer today. Everyone I've met has been super to talk with and so nice," said Mike Spencer of Indiana. "I'm looking forward to getting to work!"
Are you interested in a career opportunity at a tech-enabled national lender offering a diverse array of products? Explore opportunities to begin your journey with us, at careers.loandepot.com.