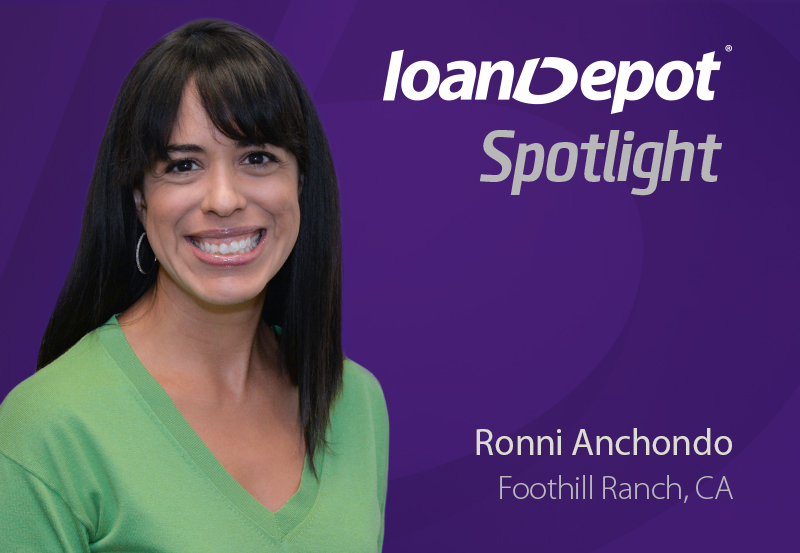 Being a good leader and a great mentor are always top of mind for #TeamloanDepot's Ronni Anchondo. Ronni joined the company in July of 2011 as a Processor and was quickly promoted to Manager, and then again to her current role as Director – all within four short years.
"I was attracted to loanDepot because of the leadership," explains Ronni. "I worked for Anthony (Hsieh, loanDepot chairman and CEO) previously at two different companies. Those experiences have always been the benchmark by which I measured any company I worked at. I feel so lucky to have had so much one-on-one time with Anthony."
A dedicated associate, Ronni is especially focused on helping other loanDepot associates achieve their personal goals. Her favorite moments are seeing others succeed.
"Just this morning a manager that I've worked with over the years was being a great leader," says Ronni. "Afterwards, I called her and let her know how proud I was of her. She in turn thanked me for the guidance over the years. It was one of those moments when you realize you can make an impact on people's lives."
What one thing does Ronni want people to know about working at loanDepot? "We're family. I've worked with so many colleagues here over the years and feel like I've grown up both personally and professionally with them," Ronni says. "I love seeing everyone's lives evolve over the years, whether it's professionally in new roles or personally with marriages and children."
"There is so much opportunity here to help lead and mentor as well as be led and be mentored," Ronni adds. "It's not just about doing loans. It's about taking care of people and supporting them in their lives and having an impact on them and their families."
Asked what advice she would give anyone joining the company, she quickly responds, "The sky's the limit!"
Are you passionate about your future and committed to working with the best? Email careers@loandepot.com to learn more about our openings and opportunities.