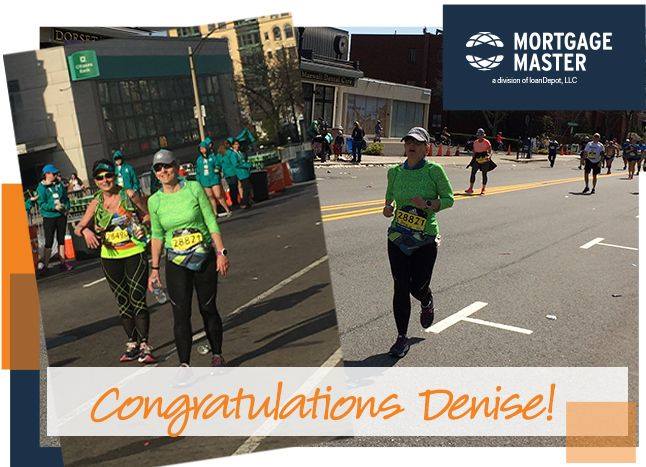 If there's one thing that #TeamloanDepot associates love, it's a challenge. Whether at work or in our personal lives, our associates are well known for setting new records while pursuing their passions. So when we learned that Denise Deeb had not only run this year's Boston Marathon, but had also set a new personal best time in the process, we were impressed but not surprised.
"The Boston Marathon was definitely something that I never thought I'd be able to participate in," explains Deeb, "Having had the chance to run this has been a major milestone for me."
Deeb, who is a staff accountant for loanDepot's Mortgage Master brand, began running just 10 years ago. Her inspiration? Taking on a new challenge:
"I wanted to push myself, and I wanted to accomplish something new," she recalls. "So I signed up for my very first half marathon and I asked a group of my friends 'hey, do you want to do this with me?' and that's how it all started."
Since then, she's run multiple 5ks, 10ks and half marathons. Three years ago, she began running full marathons. This year alone, Deeb has completed two marathons, including the prestigious Boston Marathon.
"The Boston Marathon is a very challenging course, but I was able to run it with a good friend of mine," Deeb recalls. "We were able to stay together and finish together, which made it that much nicer."
Deeb, who has been with the company for the past four years, sees similarities between her work and her running.
"There's never a dull moment," she adds as she describes a typical day at the office. "It's fast-paced and forever changing, which I like."
When she isn't helping responsible borrowers, Deeb is planning her race schedule, focusing on races that give back to local causes.
"My next race is a half-marathon over Memorial Day weekend," she says. "It honors all first responders killed in the line of duty and the race's proceeds benefit community and kids' programs for the Boston Police Runner's Club."
She also is fond of the Walt Disney World race circuit as it also gives back to charities.
"Last year I did the Goofy race, which is a half marathon followed by a full marathon the next day," she recalls. "And this year, I did the Dopey race series, which begins with a 5k, followed by a 10k, followed by a half marathon and finishes with a full marathon."
Pushing for new personal bests, new distances and new experiences is all in a day's work for Deeb. Are you interested in joining a team that is constantly challenging themselves? Check out our
career openings
.