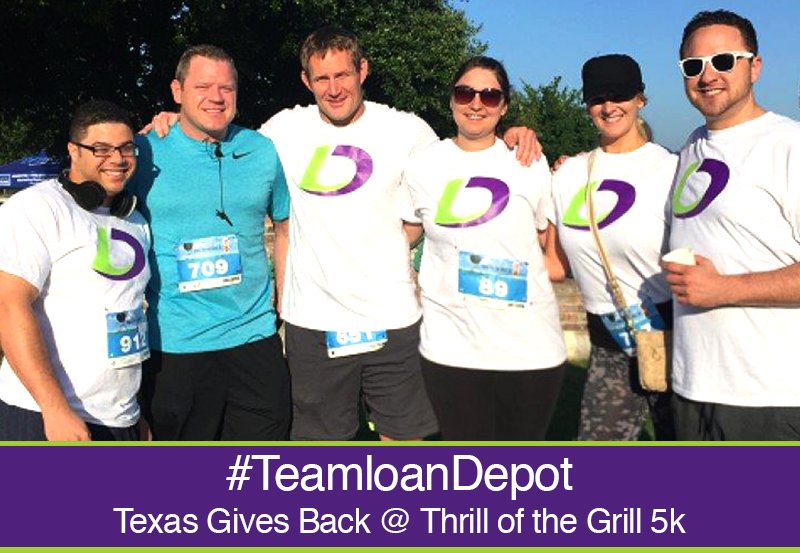 Helping the communities in which we live and work is at the heart of what we do at loanDepot. When not helping responsible borrowers access the credit they need to fuel their lives, #TeamloanDepot associates are working to make their communities stronger through their charitable efforts. This time, Minnie's Food Pantry in Plano, Texas was the focus.
On a warm, sunny Saturday, dozens of #TeamloanDepot associates in Plano, Texas donned their loanDepot tees and running gear for the 'Central Market Thrill of the Grill 5k'. All proceeds from the run went to Minnie's Food Pantry, a primary food resource for low income families that is 100% funded by the local Plano community.
"We are very lucky to work here at loanDepot," says Amy Johnson, platinum licensed lending officer and one of the #TeamloanDepot Plano event organizers. "Our ongoing goal is to give back and make a difference to our borrowers and to our communities."
At the end of the event, medals were awarded to all of the #TeamloanDepot participants. More important, Minnie's Food Pantry received a check for $1,725 to help them keep their pantry stocked.
Up next, #TeamloanDepot Plano will be spinning for a cause, raising money for the children of fallen veterans via Snowball Express. The July 22nd event already has many #TeamloanDepot associates signed up and ready and willing to feel the burn to help children in need.
Want to join a team that is focused on giving back? Check out our current openings. Are you a Plano #TeamloanDepot associate who wants to spin for a cause? Sign up here.