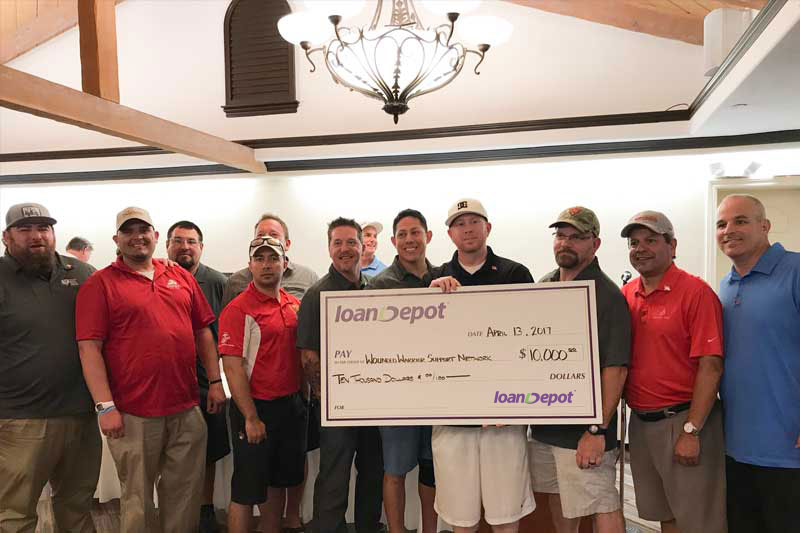 Helping to support our military community is an important part of what #TeamloanDepot does every day. Whether it's assisting a veteran or active service member who wants to make a home purchase, a refinance, or a renovation, #TeamloanDepot is dedicated to providing the very best service and knowledge about VA loans to empowering borrowers to access the credit they need to fuel their lives and achieve their dreams.
For #TeamloanDepot's Vince Nepolitan, one of our retail regional renovation specialists, connection to the veteran community goes much further. He presented a $10,000 check from loanDepot to the Wounded Warrior Support Network at the organization's April 13 golf tournament benefit.
The Wounded Warrior Support Network, headed by CEO Beverly Trout, provides active duty and wounded, ill and injured veterans and their family members with ways to have productive lives at home through programs such as homemade meal delivery, sporting events, job fairs, and more. Nepolitan has been volunteering with the group for the past year, teaching financial literacy and speaking at bases in Southern California.
He was introduced to Wounded Warrior Support Network through a friend who runs the commissaries at local bases. "I went to an event Wounded Warrior was hosting, and just hit it off with the guys," says Nepolitan. "Now I help out about once a month, whether it's at food drives at Thanksgiving or decorating veterans' homes at Christmas."
Nepolitan's lending background is particularly helpful for the veterans in the network. "A lot of people don't understand VA financing and don't know the benefits that these guys have with VA loans," he says. "I also talk to them about basic finance, how to get a checking and savings account, how to save, and financial life after the military."
After joining loanDepot in January of this year, Nepolitan talked about his involvement with Wounded Warrior Support Network with TeamloanDepot's Alec Hanson, vice president, regional production, and Dan Hanson, chief retail production officer. And loanDepot donated to the cause.
"I've been doing renovation loans for years because the pride I feel in helping veterans and working with Wounded Warrior. Having the chance to bonding with these guys and hearing their stories is amazing," says Nepolitan.
Do you want to join a team that dedicates their time in and out of the office to great causes like Wounded Warrior Support Network? Email your resume with your area of interest to hello@loandepot.com.