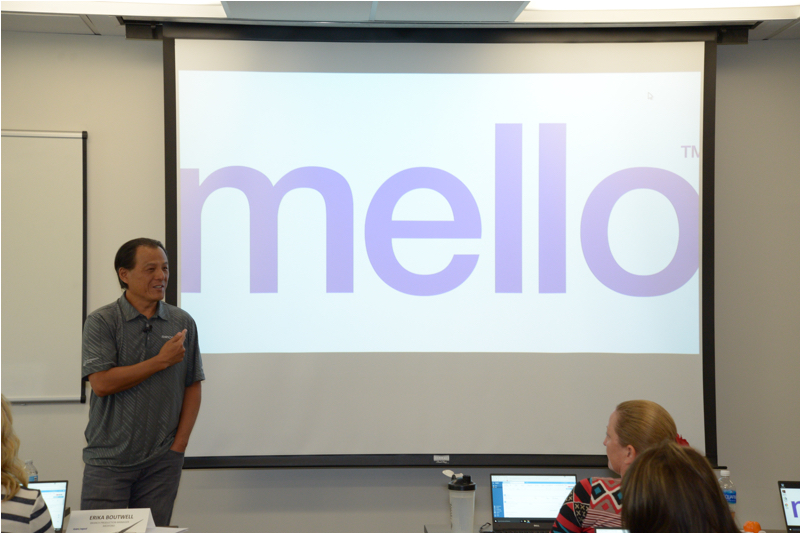 The future of modern lending is debuting at #TeamloanDepot offices across the nation via a wide-scale, training roadshow. As part of our ongoing mello ™ training support, loanDepot associates are diving into local two-day, interactive immersion training programs. These engaging sessions follow last month's demonstration of the platform's Digital Origination software, which delivers—in minutes—credit applications, side-by-side product options and pricing, loan offers, pre-qualifications, and loan approval notifications.
During the next six weeks, users in Southern California, Tampa Bay, Chicago, Scottsdale and Houston will learn how to use our brand new and all-encompassing platform, and will shared this knowledge with their colleagues.
Our CEO Anthony Hsieh spoke to participants at the first training session. "The digital innovations and digital disruption in the tools that your capable team will build is not going to stop," said Hsieh. "As much as this is exciting, this is just a small crack to give you a taste of what is possible. This is very hard to build, and it's at the very, very beginning stages."
Minh Tong, loanDepot's VP, Learning and Development for Human Resources, is spearheading the national training effort with his incredible team. Additionally, he partnered with our Tech Team to purchase and provide 150 laptops specifically set up for mello™ training, which are being shipped to each location.
"One of the reasons loanDepot is so special is because we invest in training like other category leaders such as Amazon, Google and Disney who all have award-winning training programs," said Tong.
With training sessions underway, associates feedback is already extremely positive. Sam Perle, a corporate trainer for human resources and part of the 10-member mello™ training team, said, "Users find mello™ very intuitive. They are going from using different systems for generating multiple loan scenarios, creating e-templates, and pulling credit to doing everything through mello™, which they see as a big benefit. The investment from our CEO and the product development team to create a proprietary system allows for better velocity and efficiency."
Want to join a company that values technology and has an eye on the future? Email your resume with your area of interest to hello@loandepot.com.