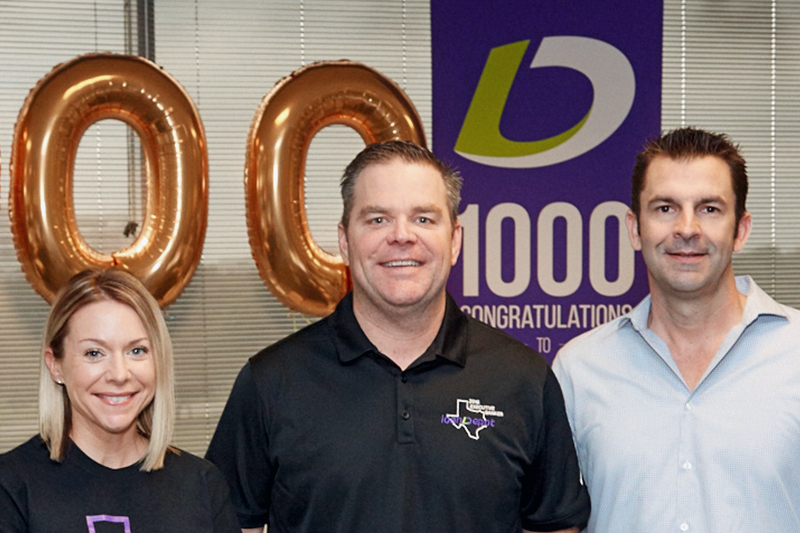 Working in the lending industry is a lot like being a runner. If you want to win, it's all about consistent training, pacing and performance assessments. For #TeamloanDepot Plano, all of the hard work and race prep have paid off big as our Texas Direct Lending campus celebrates a milestone: funding 1,000 loans in one month.
"This is an exciting occasion for Plano #TeamloanDepot," explains Chad Smith, EVP, production, direct lending. "It's the first of many milestones to come."
The energized Plano team has been working hard to make a difference for borrowers nationwide. In a span of weeks, the team has already seen impressive results—and the achievement of their first major milestone: 1k loans funded in a month.
Says Dennis Wynant, VP sales, "Hitting 1000 units funded is an exciting milestone for the Texas Direct Lending campus. I'm honored to be part of the team that was able to make this goal a reality. I'm even more excited for what's in store for the team as we continue to work together serving our borrower's nationwide."
For #TeamloanDepot, you can feel the excitement:
"All of our teams work together and communicate really well, and that makes a big difference in the level of service we can deliver to our borrowers every day," explains Michael Obied. "Plus, thanks to loanDepot's investment in its employees, the company quickly finds strengths and helps us develop themI've been here for almost 2 ½ years, and joining loanDepot is the best decision I've made."
"Management has great confidence in us, and that is giving our team great confidence in return," says Tahir Azim.
Says Erin Cortez, who joined #TeamloanDepot in June: "It's exciting to come in every day and know that you are able to help borrowers. I feel nothing but opportunity here."
"When you're here you can really feel the teamwork," says Oz Olmos. "The energy in this building doesn't compare to anything else."
Offers Shelly Wood, a director in Plano, TX, on the milestone: "Plano's big heart, entrepreneurial spirit and enthusiasm for our borrowers have enabled us to hit 1000 fundings.This is a huge accomplishment for us, and we are just getting started!"
Interested in joining a winning team? Email your resume with your area of interest to hello@loandepot.com.