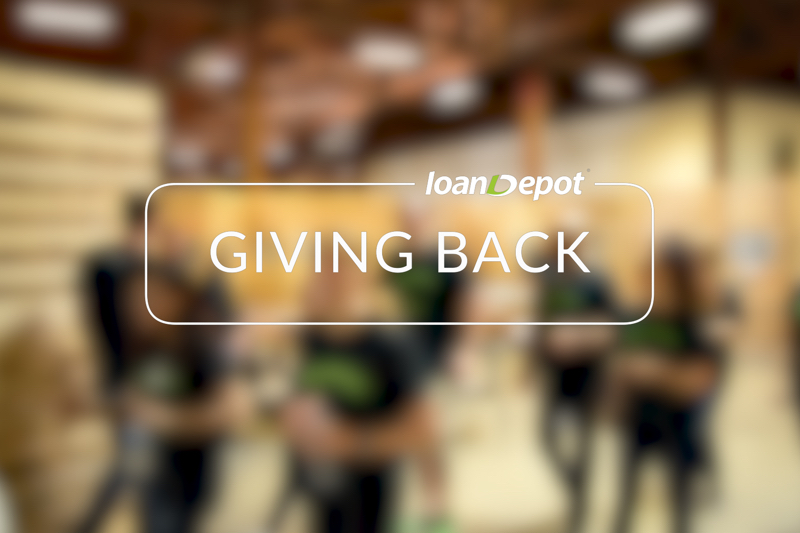 Community giving is at the heart of #TeamloanDepot's culture, thanks to our CEO and Founder, Anthony Hsieh. Over the past few months, our associates have been collecting, donating and participating in local and national charity fundraisers. Together with loanDepot's matching program, they've raised more than $112,000 for charities nationwide.
"Our efforts are founded on the focus provided by our CEO, Anthony Hsieh," explains Chad Smith, EVP, direct lending production at loanDepot. "He comes from humble beginnings, and continually encourages us to be actively involved in the communities in which we live and work."
Says Hsieh, "Our company will always be passionate about helping people live better, whether that's by delivering excellent service to our borrowers or through serving our communities."
No matter the size of the fundraiser, #TeamloanDepot isn't afraid to get its hands dirty. And, in the case of a recent 5K Foam Fest held in Plano, Texas—tackle any mud-covered obstacle.
"For this charity drive, we were focused on giving to the Community Food Bank in Dallas," explains Maggie Edwards, platinum licensed lending officer at loanDepot's Plano campus. "Despite it being extremely hot, we slogged through the foam, mud and obstacles to make it a great event for our Texas Gives Back group and for TeamloanDepot."
On the East Coast, #TeamloanDepot Walpole used the spring months to participate in multiple heart health and autism charitable events. Their charity choices were chosen in recognition of fellow associates.
Says Lynn Famolle, marketing assistant for our retail lending division, "We were inspired to get involved with the American Heart Association three years ago after our colleague, Barbara Pouliot, had a heart attack. We wanted to do something that would raise awareness in an upbeat and positive way, while also honoring her life."
#TeamloanDepot Walpole also supported Russell Braga, an information technology manager, in his efforts to bring greater awareness around The Autism Project. The Autism Project has become an integral part of his family's life since his son, Dylan, was diagnosed with autism spectrum disorder (ASD).
"I don't have the words to express the gratitude I have for the outpouring of support," says Braga. "I cannot believe the huge hearts of everyone here. The way we rally around each other and the causes that are close to our hearts are nothing short of amazing."
The group helped Braga raise more than $14,000.
On the West Coast, the legal and corporate compliance team at our Foothill Ranch campus spent time at the Second Harvest Food Bank of Orange County, sorting incoming food items for distribution. The biannual event serves as an invaluable team building exercise that is looked forward to by all involved.
And, our Lake Forest campus is actively collecting for Working Wardrobes, a nonprofit that provides professional wardrobe services, career training and job placement assistance.
Additional charities that #TeamloanDepot supported include: Make A Wish Foundation, THINK Together, Wounded Warrior Support Network, Free Wheelchair Mission, Leukemia and Lymphoma Society, and United Cerebral Palsy of Orange County.
Next up, our Plano campus will be helping to build a house with the Plano chapter of Habitat for Humanity. The team-building (literally) event will take place in late July/early August. The group also is planning its annual attendance at the One Walk for Juvenile Diabetes Research Foundation , which will take place on October 21.
"We hope to expand our participation in this walk to other loanDepot campuses and teams," explains Maggie, who is a Type 1 Diabetic. "We are confident that many other #TeamloanDepot associates are affected by T1D and would enjoy participating in this event."
Interested in joining a team that isn't afraid to tackle any obstacle to achieve amazing accomplishments for our borrowers and our communities? Email us at hello@loandepot.com with your resume and area of interest.