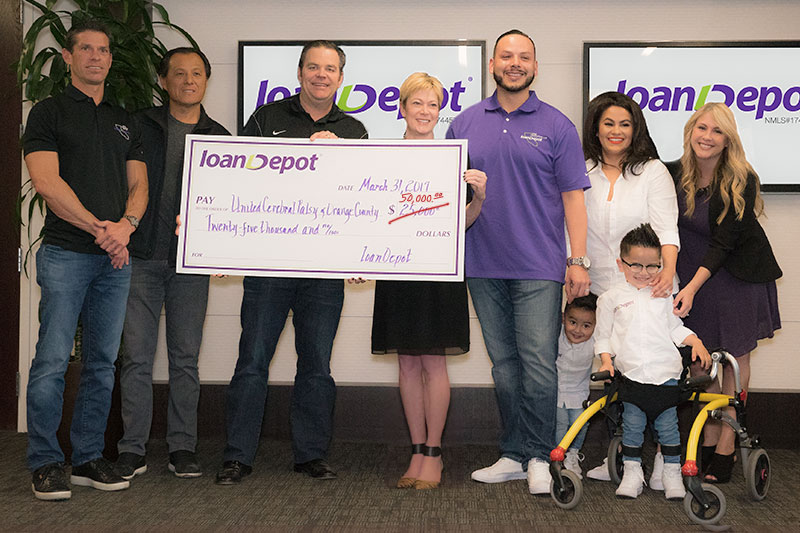 On Friday, March 31, our CEO Anthony Hsieh welcomed the United Cerebral Palsy of Orange County (UCP-OC) team on behalf of loanDepot at our Foothill Ranch campus to receive what they thought was a $25,000 donation check when they were surprised. Hsieh was so moved by the charity and #TeamloanDepot's efforts, that he doubled the donation to $50,000 to the delight of all those gathered.
"What loanDepot does to take care of families in their community is amazing," said Deborah Levy, president and chief executive officer, UCP-OP. "I only wish more companies had the kind of heart that loanDepot shows year after year."
#TeamloanDepot's fight for "a life without limits" affects one of our own. Two years ago, Executive Licensed Loan Officer Brian Ramos' oldest son, Carter, was diagnosed with cerebral palsy and began receiving treatment from UCP-OP. He and his family are so grateful for the assistance that they've received, that they wanted to give back to the organization through loanDepot's "Together We Give" charitable program.
Last year, #TeamloanDepot raised $30,000 for UCP-OC in less than 24 hours in support of Carter, his family and the charity. This year's donation brings the total raised for UCP-OC to $80,000 —a true testament to the strength of the bonds #TeamloanDepot associates build.
"When Brian shared his family's story with SVP of direct lending Alex Madonna, we all rallied around him," explains Chad Smith, EVP of production and direct lending. Adds Smith, "Carter has touched all of our hearts and made us better people. I'm proud of the funds we donated."
In fact, Licensed Lending Officers Steven Lui, Richie Hightower and John Presto, all raced to see who could donate the most money and crashed UCP-OC's online giving site. Presto even made the trip from our Arizona campus for Friday's event to celebrate the donation.
"We come to work every day and provide great products and service to our customers—that's the easy part. When you watch kids like my son and what they go through, that changes your life. If you have anyone in your family who is directly impacted by a disability that's hard," explains Brian Ramos. "I want thank everyone who supported UCP, especially our CEO Anthony Hsieh for his generation donation."
UCP-OC currently provides special programs and services to more than 5,600 Orange County families. Eighty-four percent of every dollar goes directly to fund those programs and services. Last year alone they provided more than 100,000 hours of direct service to thousands of local children and families, just like Ramos' family.
Interested in joining a team that works together to help borrowers—and treats associates like extended family? Email your resume with your area of interest to hello@loandepot.com.