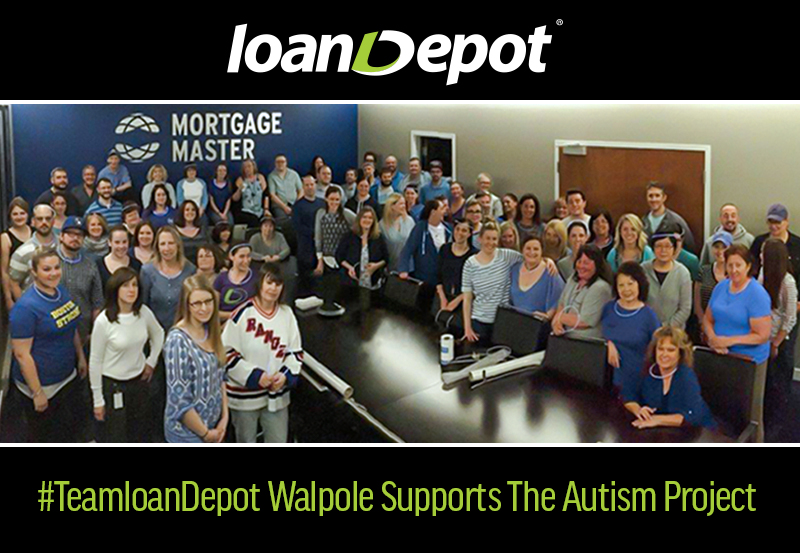 Philanthropy is essential to #TeamloanDepot. That's why you'll often spot our associates at charitable events nationwide. Whether we're supporting United Cerebral Palsy of Orange County, JDRF, Snowball Express or local food pantries, #TeamloanDepot is passionate about giving back to the communities in which we live and work.
Recently, our Walpole, Mass., team helped a fellow associate, Russell Braga, raise money for a charity close to his heart: The Autism Project. The foundation provides support, training and resources for children with autism spectrum disorder (ASD). The charity became an integral part of his life when his son, Dylan, was diagnosed with ASD.
Braga, who works as an information technology manager, has participated in The Autism Project's Imagine Walk and Family Fun Day the past three years. He partnered with three other families to create Team AlphaSaurus, named after their boys' love of letters and dinosaurs.
"Heroes come in all sizes," says Braga about Dylan and his fellow teammates, Christan Teodoro, Maxx Resendes and Ryden Murta. "I know because my son and these three little boys are mine!"
This year the families' goal was to raise $10,000. But #TeamloanDepot has never been a group that simply achieves goals — our associates love to break records. So it comes as no surprise that, with the help of his associates, Braga and Team AlphaSaurus raised $14,577 for the charity. The money will go to fund workshops, social skills groups, camps, a resource center and a variety of autism advocacy projects that the foundation is hoping to release.
"I don't have the words to express the gratitude I have for the outpouring of support," says Braga. "I cannot believe the huge hearts of everyone here. The way we rally around each other and the causes that are close to our hearts are nothing short of amazing."
Join a team that supports its fellow associates and gives back to the communities in which it lives and works. Email your resume to careers@loandepot.com today.