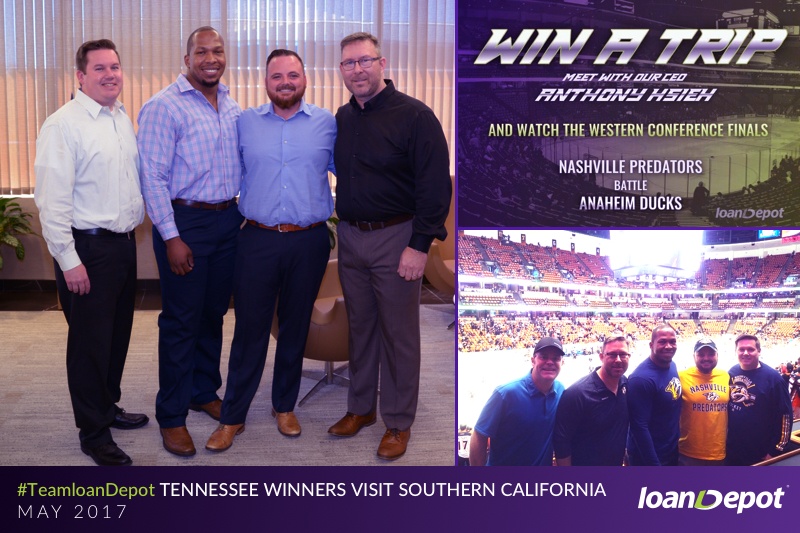 For #TeamloanDepot - Nashville, it was the contest to win: A four-day trip to Southern California, complete with tickets in the loanDepot suite to watch the Nashville Predators play the Anaheim Ducks in Round Three of the Stanley Cup Playoffs. And, while it was a wonderful evening, they all agreed the true highlight of the trip was spending time with our CEO, Anthony Hsieh.
"My favorite memory of the weekend was seeing my team's smiles at the CEO Connect with Anthony Hsieh," says Jason Barto, VP, Sales. "It's incredibly impactful for our team to meet Anthony in person and hear directly from him about his vision for our company.
Adds Malcolm Arrington, executive licensed lending officer, "Hearing directly from Anthony about why he does what he does is extremely motivating. It's powerful to know his personal motivations and how he is committed to us and to being the very best."
Kevin Ross, also an executive licensed lending officer, agreed. "Getting to know Anthony's mindset—his vision for the future and his attitude for being the best by working hard to be the best says a lot. It's about building a story with integrity."
The top-performing loan officers were joined by site leader Jason Barto and Addam Pence, production manager. Together, the four met with leadership at our Foothill Ranch headquarters, while also shadowing the Southern California campus' top loan officers.
"Working with the SoCal team was enlightening," says Arrington. "Their teamwork is truly impressive. They are here every day to help as many borrowers as possible, and they work together to get the job done, no matter what."
Arrington is no stranger to team spirit, having played in the NFL for the Chicago Bears. "I walked away highly impressed with the loan officers' focus and commitment, and I've already met with my team to talk about how we can implement some of their practices. For these loan officers, including Yousuf Shah, the sky is truly the limit. They love what they do and they are incredibly deliberate and passionate about their work."
Adds Ross, "I am very impressed by how the SoCal team stays focused and driven and gets the job done with impeccable ethics."
And, to celebrate a job well done, the four were joined in the loanDepot suite by fellow #TeamloanDepot associates, including Chad Smith, EVP, production, direct lending, and Peter Macdonald, EVP legal.
"Being from Nashville, the game, of course, was amazing," says Ross. "It was a great experience, and it was wonderful to meet so many people. I think it would be exceptional if we could come out a few days every year to work with the loan officers here at headquarters."
Ross, a lending industry veteran who has been with the company for three years, adds that there is no company in the industry like loanDepot.
"The loanDepot difference is a combination of the availability of loan products, the approachability of the management team, the support systems that are in place for all of the teams, and the ongoing training that is always available," explains Ross. "You will not get this level of support anywhere else."
Interested in joining a team that supports each other in our quest to be the best in the business? Email us your resume along with your area of interest tohello@loandepot.com.