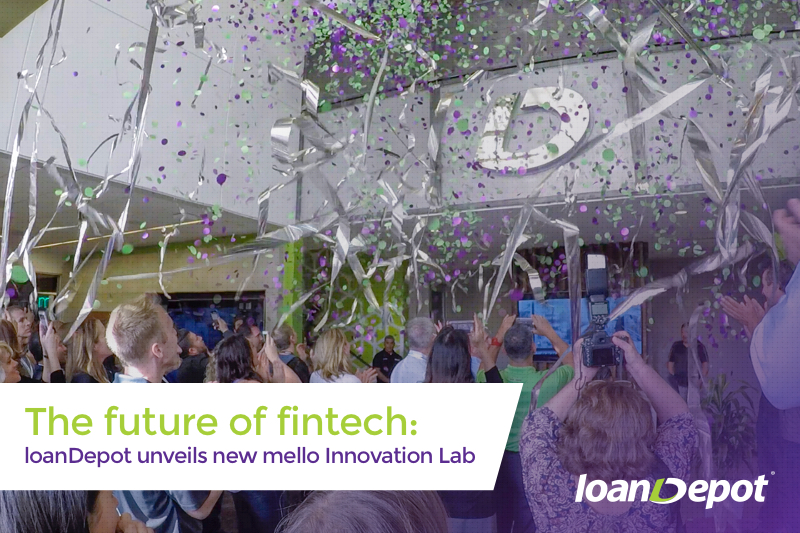 It's easy to think of a celebratory image like the one above as a one-off event. But to Dominick Marchetti, our Chief Technology Officer at loanDepot, it goes far beyond an isolated moment. It's years of work that made us a tech force to be reckoned with, and staying ahead of where technology is driving customer expectations is a never-ending journey for us.
"Welcome to the Lab," he exclaimed yesterday to kick off the grand opening of our mello Innovation Lab to the hundreds of tech team members and guests on site as well as and thousands of loanDepot team members streaming live via YouTube. "It requires complexity to deliver simplicity, and bringing our tech team to this new campus and thoughtfully transforming it into a home for our tech engine has been a multi-year labor of love."
Home to 450 top technologists hand-selected from an array of industries, loanDepot's mello Innovation Lab has 90 smart displays throughout and an open-plan workspace packed with private and semiprivate space to drive constant collaboration and a "mello" mood to stay comfortable and creative.
"The building today is a huge signal for our company," founder and CEO Anthony Hsieh said. "It's here because of the collective effort of everyone in our company. The nice thing about technology is that if you do it right, you keep building on top of it. I always remind people, you can't get to iPhone 10 without iPhone 1 – you just can't leapfrog it. There's got to be a base that you work from to make it better. I'd say that today – if we were a smartphone – we're getting out of that iPhone 1 stage, and that's exciting because we know just how hard it is to get it right when it comes to technology."
With the ceremony concluded and the mello Innovation Lab officially unveiled, guests and tech team members celebrated throughout, with games, tunes, tours, custom-branded swag, and a chance to toast their next chapter at our tech command center.
Below are a few pictures of the night, which is not just a great milestone, but a glimpse into the innovative culture we live every day.