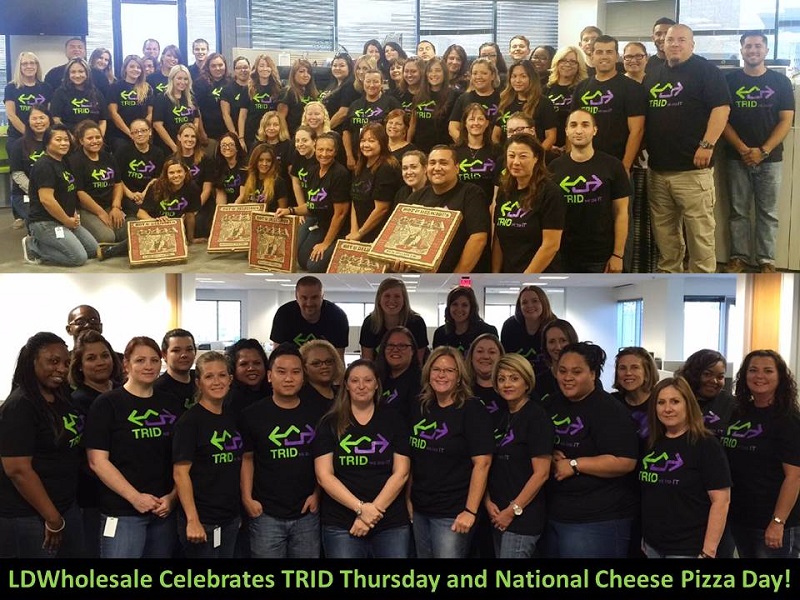 How do you prepare your team for major changes in mortgage disclosures? At LDWholesale, we do it with a lot fun, training and support every Thursday. We call them TRID Thursdays.
Every Thursday for the month of September, the #TeamloanDepot associates at our LDWholesale division are focused on all aspects of the TILA-RESPA Integrated Disclosures rule (TRID) as we near the new effective date of Oct. 3, 2015.
Each week begins by sending associates an email announcing three "TRID wins," fun facts detailing the positive effects TRID has on the company, the industry and how they benefit American borrowers. These fun facts also serve as a reminder of what the changes will bring while also getting everyone ready and excited for TRID to go into effect.
LDWholesale also has dedicated the month of September to internal and external TRID training for its nearly 600 brokers. These training sessions cover the procedural changes and enhancements that are being made in accordance with the new TRID regulations. Topics covered include an overview of the new integrated disclosures, new timing and re-disclosure requirements, and revised fee tolerances. The training also features important information regarding enhancements made to the LDWholesale Broker Portal.
The LDWholesale team also is working to ensure that all of the new processes align with those of its broker partners.
At loanDepot, we value consistency and transparency and are a proud supporter of the new disclosures rules.