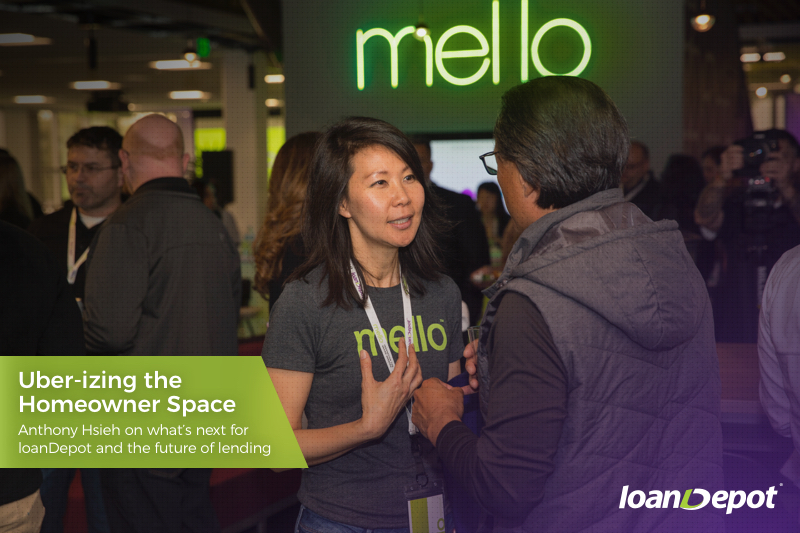 Last week we hosted the grand opening of our mello Innovation Lab and invited a few select journalists to attend along with hundreds of employees, business partners, and community leaders.
Our founder and CEO Anthony Hsieh spoke with top housing media site Inman News, and his interview with reporter Emma Hinchliffe provides a glimpse into the future of homeownership for consumers. Below are some key excerpts from Inman's interview with Anthony.
On how younger home seekers, Millennials and Gen Zers, are engaging in the home buying process:
There's no doubt millennials are natives to the digital world instead of immigrants. They've very comfortable with the smartphone because they didn't migrate from desktop to laptop to mobile. But just because you're mobile-friendly or a digital native doesn't mean you understand APR, title and other financial terms.

The market 10 years ago assumed just because someone knows how to turn on a smartphone, they understand financial terms. We actually

see millennials tapping on our expert loan officers

more often than older generations who may not be as savvy on mobile but understand financial terms.
We are really "Uber-izing" our company. We've got to build the proper digital pipe and plumbing that matches up with supply and demand: convenience in product and services, buying, selling, repairing, upgrading to solar, refinancing. Those are all spokes in homeowners' wheels. Traditionally, every one of those spokes has belonged to separate categories. As we become modern and digital, consumers are not going to want different brands. They want one brand experience. That's where the industry is going.



Whether it's a real estate agent, a mortgage broker, a contractor or a solar installer, we all have to understand that finding a customer is one of the most costly and difficult things to do. Because of our scale — our brand is generating 1 million homeowner leads every month now — we can be fantastic partners to real estate agents and home improvement pros. Extending the Uber-izing concept, mello Home allows us to match the rider (homebuyer) to the driver (real estate agent and/or home improvement pro).
Where we are going as a company and an industry:
You're going to see mortgages, consumer lending, real estate and other homeowner services consolidate. There's going to be a bit more feel of digital dominance. The top three to five digital players will own a massive piece of the market.

Analog world industries are a lot more fragmented than the digital world. Right now the marketshare between No. 1 and No. 2 is going to continue to increase. I can see it easily going from less than 10 percent to around 20 to 25 percent between us and Quicken Loans.

The most challenging for us is the fact that we're in an industry that's changing so fast we have to have a dual personality, almost a triple personality. We have to be responsible to make sure the core health of the business is there. We have customers to serve. We also have to innovate. Innovating is just hard, particularly when you have a business that's producing revenue and profits.

We've seen

HomeAdvisor and Zillow become powerful as digital middlemen.

Customers want convenience and the brand experience. They don't want to go around that to the traditional service provider. They trust the brand, they trust the experience, and we have to figure that out.
For the latest musings from the top, remember to come back to the loanDepot blog.