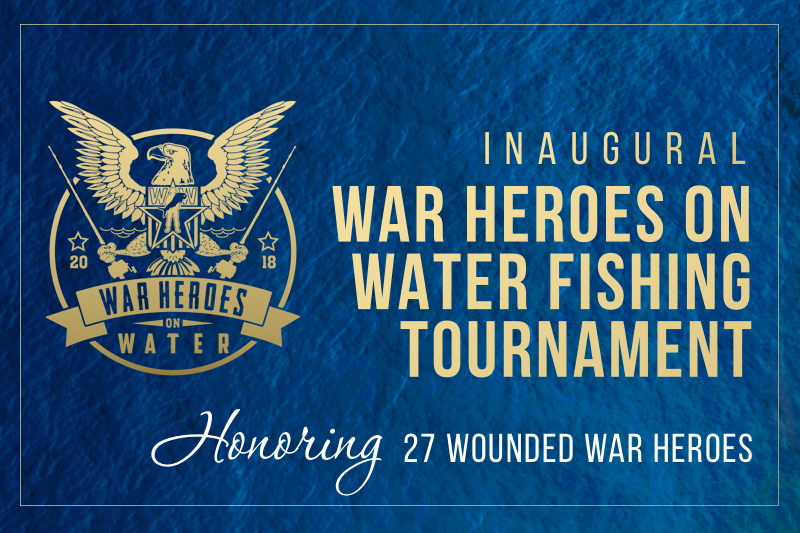 What began as a humble post on social media last year by our CEO Anthony Hsieh expressing gratitude and appreciation for America's Veterans has grown into a full-fledged adventure this month for 27 wounded war heroes. On August 16, the Veterans will arrive in Southern California to board 11 champion sportfishing yachts and journey to the pristine waters surrounding Santa Catalina Island to catch a thrill—and a whole lot of fish.
The waters are known for their Calico, Halibut, Yellowtail, Sea Bass, Tuna and Marlin, and the Veterans, together with world-renowned sport fishing captains will put their talents to the test to compete in the inaugural War Heroes on Water Fishing Tournament. The three-day adventure, organized by Anthony Hsieh and hosted by the SoCal sport fishing community and Freedom Alliance, is designed to display the group's immense gratitude and respect for those who have sacrificed so dearly for the United States of America.
"We, as Americans, are so lucky to have these heroes keeping us safe," says Hsieh. "I was greatly impacted spending a weekend fishing with seven American heroes last year, and I knew, before we were back on land, that I wanted to make this an annual event—but bigger—and one that my fellow sport fishing colleagues could participate in. The immense levels of duty and commitment that these—and all—Veterans display should be celebrated and honored."
Hsieh and the SoCal sport fishing community have teamed up with Freedom Alliance, a non-profit organization whose purpose is to honor and support America's military and meet the rehabilitation needs of wounded service members, combat Veterans and military families. Freedom Alliance is known for taking Veterans to beautiful and peaceful settings around the world to help them heal.
"The wars in which these heroes fought were public," explains Pepper Ailor of Freedom Alliance. "It makes their internal, private battles all the more important to be told when they're ready to share. Quality time in a positive environment with supportive friends is essential for their well-being and recovery. The solitude of nature like that experienced on fishing expeditions provides the perfect setting."
The tournament has struck a chord beyond the SoCal sport fishing community, with donations to support the event coming in from across the country. Additionally, all of the sportfishing yachts participating in the tournament—including the captains and crews—were graciously donated by their owners.
"We are all so deeply appreciative for the thoughtfulness and generosity of the individuals and companies who are stepping up to help support this great event," says Tournament Director Rod Halperin. "This is enabling us to put on a once-in-a-lifetime event for these Veterans and create indelible memories for all of us. We could not be more thankful."
Commemorative Tournament gear is still available. Additionally, individuals who would like to contribute to the event or to the silent auction that will be held at the event's prelude reception may still do so. The WHOW Tournament is accepting cash donations, goods and services to provide meals, prizes and gift and other giveaway items for the honored Veterans. Honorary entry (donation of $500 or greater) into the WHOW Tournament also is still available for any boats that wish to participate. All sizes of boats are welcome and will be invited to proudly fly the tournament flag through the WHOW weekend to show support for the Veterans.*
You can follow along on the journey as we share stories live from the event. Be sure to stop back beginning August 16th as the Veterans arrive to begin their journey to Santa Catalina Island.
*Honorary entries will not be carrying Veterans or be eligible for prizes, but will be recognized in promotional materials and throughout the weekend.