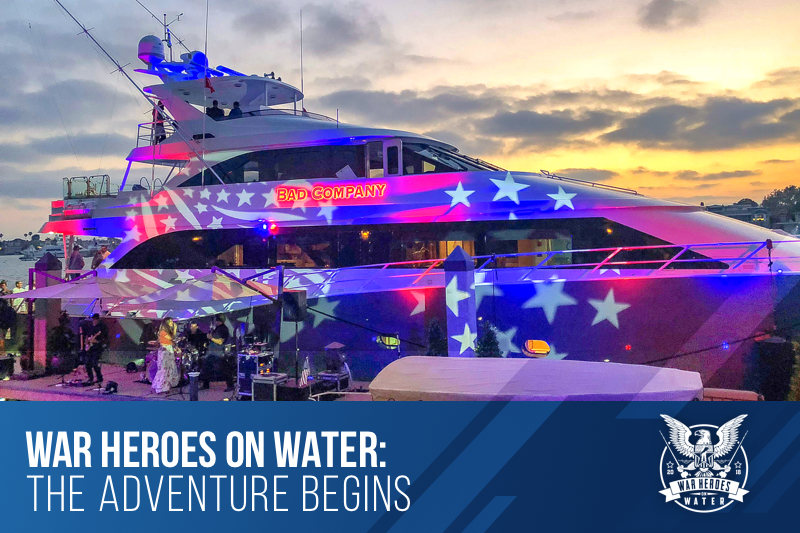 When our CEO Anthony Hsieh first envisioned the War Heroes on Water Fishing Tournament, his focus was solely on honoring Veterans for their duty, commitment and honor to our country. The inspiration came to him following a fishing excursion to Cabo San Lucas, where he entertained 7 wounded war heroes.
"I was so moved to spend time with these American heroes," Anthony recalls. "That when we returned I was convinced that this needs to be bigger and one that my fellow sport fishing colleagues could be a part of—so I reached out to the SoCal Fishing Community to see what we could do."
What Anthony didn't expect was the immense outpouring of love and support War Heroes on Water Tournament would receive from both his SoCal fishing friends as well as the broader Southern California community. Fast forward to this past Thursday evening.
As 25 wounded war heroes, selected from Freedom Alliance, made their way to Anthony's Newport Beach home they had no idea that they were about to receive the reception of a lifetime. As they arrived, Anthony personally greeted each Veteran and escorted them inside, where more than 300 friends and community members awaited their arrival.
Anthony recalls, "I was absolutely speechless and grateful to see friends old and new all gathered together to celebrate these amazing heroes. Their generosity is overwhelming—we raised $90k this evening alone—which all goes to Freedom Alliance to help our Vets."
The California-casual evening kicked off with a rousing rendition of the National Anthem that brought the entire crowd to its feet. As the evening continued, guests were entertained by a country music band and engaged in a lively silent auction where they bid for a variety of ocean-themed treasures—including artwork, fishing excursions to exotic locales, and state of the art fishing gear. Although bidding could be managed from their mobile phones, many guests hovered near the auction items—ready to up their bid to secure their coveted item.
Captains and crews from participating yachts also were in attendance, eager to meet the Veterans who would be joining them for the weekend's adventures. As the music faded and the Vets headed back to their hotel rooms to rest ahead of their 6:30am call times, partygoers happily agreed that this was a not-to-be missed event.
This weekend, as Anthony, the Veterans and all of the participating teams head toward Avalon ready to cast their rods, we wish them the sentiment that has been echoed to the Tournament participants by hundreds of anglers across the country: Tight lines.