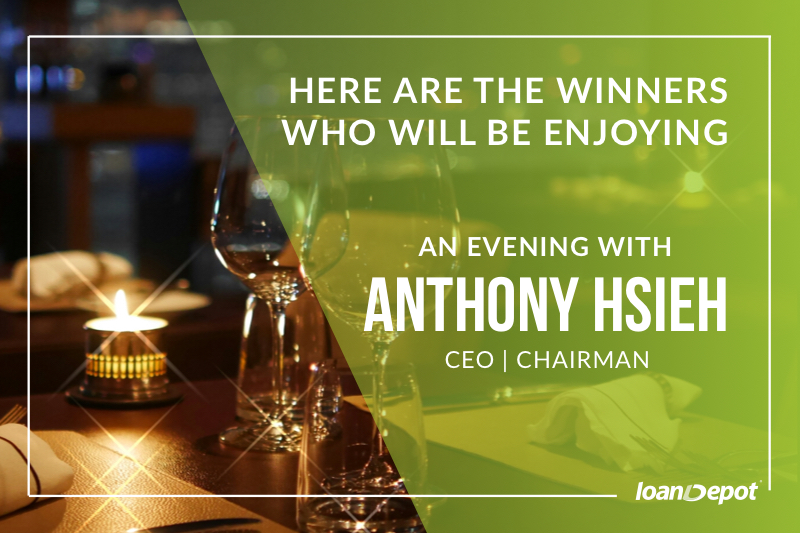 Moved by so many tales of personal triumphs, family hardships, and successes despite impossible odds, loanDepot's CEO and Founder Anthony Hsieh has expanded the number of winners from 8 to 11. While the selection committee was impressed with all of the stories submitted, the lucky winners are listed below. They will enjoy a VIP dinner experience with Anthony along with a two-night stay in sunny Southern California:
Alexander Kim
Brittany Hurd
Ed Machoskie
Kamran Forghani
Kim Thompson
Meredith Dillas
Mohan Gupta
Mony Nop
Timothy Hurlbut
Todd Becker
Yousuf Shah
One common theme so many of the entries featured: A fervent desire to meet the man who has built three industry-defining companies from the ground up.
"I would love to hear more about Mr. Hsieh's personal story and experience, and what motivated him through the years," wrote Kim Thompson.
"I am passionate about real estate, lending, and technology and I have never had the chance to talk face-to-face with a CEO like Anthony Hsieh," wrote Kamran Forghani. "I would love to hear from Mr. Hsieh about his life and how he made his American dream come true."
"To see a fellow immigrant who also traveled distances to get to his destination gives me great inspiration to carry on and reach my destination," writes Alexander Kim.
Stay tuned to hear more about their evening—and what they learned from the experience—in an upcoming blog.